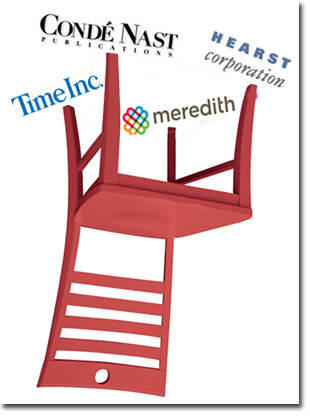 Not even Bob Dylan could have predicted the amount of upheaval among consumer magazine publishing companies this summer. Seriously, either chief executives and/or the top staffers in charge of media divisions at all the major companies have been in constant flux.
The most recent and perhaps final example came Tuesday when Paris-based Lagardere Active announced that Alain Lemarchand, who has served as CEO of Hachette Filipacchi Media U.S. since June 2008, will be stepping down and that former Primedia Enthusiast Media and Source Interlink Media president Steve Parr will take his place.
The big managerial moves kicked off this summer when Hearst Magazines announced a new management structure that had longtime president Cathie Black moving up to chairman and former Condé Nast group president David Carey coming on to replace her. The ball kept rolling with similar changes happening at Condé Nast, Meredith, Time Inc., etc., etc.  (Instead of detailing each move here I've put together a timeline below…)
Arguably, the game of musical stairs really started last year when Wenda Harris Millard left Martha Stewart Living Omnimedia as co-CEO and Rodale chairman Maria Rodale replaced Steven Pleshette Murphy as CEO. (Coincidentally, Murphy resurfaced Tuesday as CEO of Christie's International.)
While these high-profile people moves can potentially spell big changes at their respective companies, this flood of personnel action isn't necessarily all that surprising. The industry has weathered a dramatic economic downturn that sent advertising pages plummeting more than 25 percent in 2009 compared to 2008, according to the Publishers Information Bureau. Ad pages declined nearly 12 percent in 2008 versus 2007.
These new magazine bosses will be expected not only to ride the slow but evident uptick in advertising dollars so far this year, but to embrace emerging technologies and to pave new avenues for revenue. No small order. The pressure is on.
April 2009: Wenda Harris Millard steps down as co-CEO of Martha Stewart Living Omnimedia. The company's media division is now overseen by executive chairman Chalres Koppelman and merchandising president/CEO Robin Marino.
July 2009: Rodale chairman Maria Rodale replaces president and CEO Steven Pleshette Murphy.
April 2010: Source Interlink Companies gets new leadership by way of former Comag president and CEO Michael Sullivan, who is named CEO and director.
The Reader's Digest Association announces the departure of several top executives, including Reader's Digest Community president Eva Dillon and Emerging Businesses division president Alyce Alston. Allrecipes.com president Lisa Sharples replaces Dillon as president of the Reader's Digest Community.
June 2010: Hearst Magazines president Cathie Black becomes chairman as ex-Condé Nast group publisher David Carey takes the reins as president.
July 2010: Condé Nast consumer marketing group president Robert A. Sauerberg is appointed president amidst a larger management reorganization.
August 2010: Meredith Corp. says Jack Griffin is leaving the company as president of its national media group. He is replaced by Tom Harty, president of consumer magazines.
Soon after, Griffin takes over as CEO of Time Inc., replacing longtime chairman and chief executive Anne Moore.
The following day, Linda Johnson Rice steps down as CEO of Johnson Publishing. Former White House social secretary Desiree Rogers is named chief executive.
September 2010: Alain Lemarchand passes the CEO torch at Hachette to former Primedia and Source Interlink executive Steve Parr.