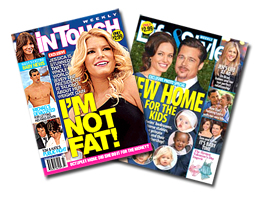 RELATED POST: Bauer Takes Beating at Newsstand
The consumer magazine industry, already decimated by layoffs, closures and cutbacks, felt the brunt of the U.S. economic meltdown at the newsstand during the second half of 2008, according to the Audit Bureau of Circulations' latest Fas-Fax, released today.
A staggering 355 magazines tracked by ABC—some 75 percent—saw their single copy sales decline between June and December,  while just 116 managed to increase sales at the newsstand.
Overall, 329 magazines saw their total paid and verified circulation decline; 239 were up, and eight titles remained flat.
The Biggest Loser(s)
Among the biggest decliners in total paid and verified circulation: Arts & Antiques (down 41.2 percent); Bauer's Life & Style (-30.7 percent) and In Touch (-29.3 percent); and Hearst's recently-shuttered Teen (-30 percent).
Domino, which Condé Nast shuttered two weeks ago, saw its total paid
and verified circulation increase 54.6 percent (to 1,047,916 copies),
including a 72.7 percent bump in paid subscriptions.
Condé's
Cookie, meanwhile, increased its total paid circulation 22.4 percent
(to 533,789) despite a 27.9 percent drop in single copy sales.
Few Bright Spots
There were some bright spots, however few.
A magazine called Global Traveler nearly doubled its average circulation to 107,140 copies.
Rodale's Organic Gardening increased its total paid circulation 35.3 percent, while its Women's Health grew 31 percent.  Hallmark magazine (up 27.2 percent) also saw a healthy increase.
The Economist saw its newsstand sales increase 10.9 percent (to 75,777) and its total paid circulation jump 9.2 percent—this with a $1.00 cover price increase.
Creatively-spelled Kustoms & Hot Rods increased its paid circulation 45.6 percent (to just 16,621 copies, however) with a 53 percent increase at the newsstand.