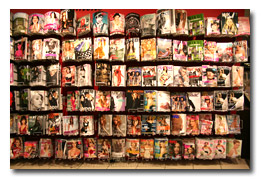 RELATED: Just 42 Magazines Saw Ad Page Increases in '08
Many publishers would like to forget 2008 ever happened.
Consumer magazine advertising pages dropped 11.7 percent in 2008 when compared to 2007, according to year-end figures released by the Publishers Information Bureau late Tuesday.
The drop in advertising accelerated in the fourth quarter, as pages slid more than 17 percent.
"Like other ad-supported media, magazines have been affected by the economic slump, which deepened as 2008 progressed," Ellen Oppenheim, the Magazine Publishers of America's executive vice president said in statement.  "Advertiser decisions for the fourth quarter were influenced by a range of factors. For longer-lead time monthlies, consumers cut spending during the summer due to soaring energy prices, which caused advertisers to put buy fewer ads in year-end magazine issues.  In the fall and early winter, rising unemployment and steep stock market declines led to restrained ad spending in weekly titles."
The drop followed three years of flatness, and was by far the worst
slide since before 2000, the earliest year comparative PIB numbers are
available.
And the hemorrhaging in 2008 was widespread. Each of the top 12 magazine advertising categories (which account for more than 85 percent of total advertising spending) declined in both full-year and fourth quarter 2008, and the declines were seen in both PIB revenues and pages. The most significant decreases were seen in the most beleaguered of sectors: automotive; home furnishings and financial, insurance and real estate sectors.
No Silver Lining
Among individual titles and magazine categories there were few, if any, bright spots.
Magazines that saw the biggest ad page declines in 2008 include Home (-37.9), the Sporting News (-34.2 percent), Saturday Evening Post (-33.5 percent), Soap Opera Digest (-31.5), Motor Boating (-31), Blender (-30.6) and More (-30.3).
All seven of Sunday magazines tracked by PIB, including the Los Angeles Times (-15.8) and New York Times (-12.9) magazines, saw ad page declines. (The only one that showed a gain was Spry, which didn't exist in 2007.)
Ad pages at Meredith's Ser Padres were up 42.2 percent, while Nexos (31.5), Scholastic Parent & Child (28), Mansueto's Fast Company (23) and OK! (23) rounded out the top five.
The Week and the Economist continued to buck the treacherous slide in the newsweekly category. The Economist posted a 4.4 percent ad page gain, while Time (-19 percent), Newsweek (-19 percent) and U.S. News & World Report (-32.4) posted significant losses. The Week was essentially flat.
But even the magazines that did relatively well in 2008 were down significantly over the previous year. New York magazine, for instance, ran the third most ad pages among all U.S. magazines, but still finished the year down 6.3 percent.
Overall, just 42 of the 241 magazines tracked by PIB showed ad page increases.
Click here for the full list.
AD PAGE GROWTH
% CHNG
2008
vs. 2007
-11.7
2007
vs. 2006
-0.6
2006
vs. 2005
-0.1
2005
vs. 2004
0.5
2004
vs. 2003
3.8
2003
vs. 2002
-0.7
2002
vs. 2001
N/A
2001
vs. 2000
-4.9
2000
vs. 1999
14.0

SOURCE: PIB

[EDITOR'S NOTE: Check FOLIOmag.com for updates to this story.]