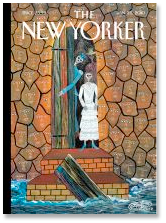 A number of the biggest consumer magazine publishers in the U.S. have stepped up in the days since a 7.0-magnitude earthquake rocked the Caribbean country of Haiti, helping to raise money for numerous relief efforts.
Time Inc.'s Time magazine is publishing "Haiti," a book of exclusive photos from Time photographers and analysis on the country. A bookazine issue will be available January 29 for $12.99 and a hardcover version will be out at the end of February with a $19.95 cover price. Time Inc. said it plans to donate at least $75,000 of proceeds to benefit Haitian relief efforts.
Hearst, meanwhile, launched a company-wide fundraising effort to benefit organizations including Doctors Without Borders, Save the Children and UNICEF. As part of the program, Hearst said it would match donations made by employees, up to $100,000. Hearst's Esquire.com features a Q+A with former U.S. president Bill Clinton, the UN envoy to Haiti, and includes a list of "on-the-ground" organizations in Haiti and a link pointing users to donate via the William J. Clinton Foundation.
At Condé Nast, a number of individual titles have initiated relief events/programs. For instance, Eleanor Banco, director of public relations at Teen Vogue and Style.com, and Teen Vogue fashion market editor Mary Kate Steinmiller organized an event last week at the Soho Grand Hotel, collecting $20 donations from attendees. According to Banco, the event generated $9,000—all of which will be donated to the Red Cross.
On its Web site, Condé Nast's The New Yorker is selling printed copies of the cover of the January 25 issue of the magazine [pictured], which was painted by Frantz Zephirin, a Haitian artist. Prices range between $125 and $445. The magazine said it will donate all profits from print sales to Partners in Health, a provider of health care and other services in Haiti.
The Samuel I. Newhouse Foundation, which is affiliated with Condé Nast's parent Advance Publications, donated $200,000 to the Clinton Foundation.
And at American Express Publishing, Travel + Leisure and Food & Wine are urging readers online to donate money to Hiati relief efforts. Parent company American Express said it is donating $250,000 to American Red Cross, Doctors Without Borders, International Rescue Committee and the United Nations' Friends of the World Food program.