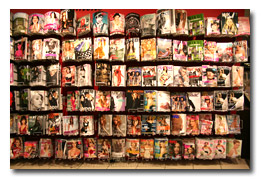 SEE ALSO: Celebrity Magazines See Big Advertising Resurgence
For the first time in nine quarters, consumer magazines reported gains in both rate card-reported advertising revenue and pages, according to the latest information from the Publishers Information Bureau, which was released today. Estimated revenue for the period closed at more than $5.21 billion, a 5.7 percent increase over the same period last year. Meanwhile, PIB recorded 43,427.11 advertising pages, a gain of 0.8 percent versus the same three-month period last year.
During the second quarter, 130 titles increased ad pages, PIB says. Only 15 managed to grow pages during the same period last year.
The strong performance during the second quarter pushed estimated revenues over the first half to a 1.2 percent gain compared to the first half of 2009. Ad pages, however, slipped 4 percent.
According to the report, advertising revenue and pages increased during the period in six of the 12 advertising categories tracked by PIB, including Automotive; Financial, Insurance & Real Estate; Toiletries & Cosmetics; Home Furnishings & Supplies; Technology; and Food & Food Products. PIB says the quarter marks the first time since 2007, when the group moved to quarterly reporting, that the Automotive category posted double-digit increases in pages and revenue (+28 percent and +41 percent, respectively).
A number of magazines reported double-digit ad page growth during the quarter. The biggest winners were Condé Nast's Brides (+128.9 percent), Life & Style (+69.4), Boy's Life (+55.6), Playboy (+53.7) and ESPN the Magazine (+42.9). Hearst's Food Network Magazine, which launched in late 2008, reported an ad page increase of 263.7 percent.
Over the first half, the biggest winner was Time Inc.'s People Style Watch, which increased ad pages 59.7 percent to 398.27 pages. Other big gainers include Destination Weddings & Honeymoons (+53.1), Boy's Life (+50.4), Martha Stewart Weddings (+47.2) and Technology Review (+42.9) The Food Network Magazine reported a 445 percent ad page gain (347.25 pages) over the same period last year.
Check back to FOLIOmag.com for updates.