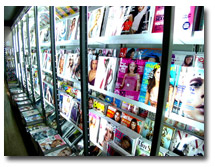 Consumer magazines continued its general circulation decline through the first half, with total paid and verified circ. slipping 2.27 percent, according to preliminary figures reported in the Audit Bureau of Circulations' most recent FAS-FAX, which was released Monday. Newsstand sales also continued to dive, falling 5.63 percent.
Through the same period last year, total paid and verified circ fell only 1.19 percent while newsstand sales slid 12.36 percent. A total of 440 titles reported total paid and verified circ in both the June 2009 and June 2010 periods, ABC says.
Total paid subscriptions, meanwhile, fell 1.96 percent through the first half, ABC says.
Of the top 25 consumer titles by total paid and verified circ, Game Informer magazine (4,364,170 total paid and verified) saw the biggest increase of 21.19 percent. Reader's Digest, which previously announced a circulation reduction, reported a decline of 25.08 percent (6,112,811).
The largest-reporting title, AARP (23,721,626) saw its total paid and verified slip 3.39 percent during the six-month period. Better Homes and Gardens grew 0.13 percent to 7,644,011 while National Geographic declined 4.67 percent to 4,493,110.
And of any magazine with a total paid and verified circulation above 100,000, the biggest gainer during the period was Food & Family, which reported a 649.71 percent increase to 1,084,503. Next up was right-leaning Newsmax, which grew total paid and verified circ by 92.63 percent to 181,985.
Other titles that raised their total circ were Organic Gardening (up 25.81 percent to 351,713), Bon Appetit (19.17 percent to 1,611,930), Science News (18.99 percent to 136,363) and People Stylewatch (17.72 percent to 882,683).