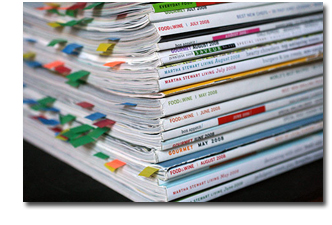 Consumer ad pages fell for the ninth out of 10 quarters since the Publishers Information
Bureau began reporting on a quarterly basis in mid-2007, according to the group's
latest figures, released late Friday.
During the third quarter 2009, pages fell 26.6 percent compared to the same period last year. Estimated ad revenues for the third quarter closed at $4.53 billion, down 18.6 percent.
Ad pages increased 0.1 percent increase during the final three months of 2007, according to PIB.
Through the first nine months of 2009, ad pages dropped 27.2 percent compared to the same period in 2008. Estimated ad revenue, meanwhile, decreased 20.3 percent to $13.66 billion.
Of the 12 advertising categories tracked by PIB, Food & Food Products saw an increase in ad pages—3.9 percent compared to the same period last year. Automotive (-46.1 percent) and Financial, Insurance and Real Estate (-43.1) continued to see the biggest ad page losses.
"Those gains [in Food and Food Products] suggest that marketers are adjusting their approach to economic conditions, for example, by trying to appeal to consumers who are choosing to dine and entertain at home," Magazine Publishers of America executive vice president and CMO Ellen Oppenheim said in a statement.
Fiften magazines during the third quarter reported ad page declines of 50 percent or greater. U.S. News & World Report—the former newsweekly that went to biweekly then to monthly circulation—saw the steepest declines, falling 91.2 percent to 27 ad pages, compared to 305.93 during the same period last year. Sport Fishing saw ad pages fall 73.6 percent and Sound & Vision's pages fell 61.1 percent during the period.
National Geographic Kids was the biggest gainer during the period, with pages increasing 76.3 percent. Rounding out the top three were AMI's Country Weekly (42.5 percent) and Family Circle (31.5). Other notable gainers include Saturday Evening Post (22.8 percent), Scholastic Parent & Child (16.8), OK! (13.5), The Week (12.8) and Life & Style (8.4).
Through the third quarter, U.S. News & World Report saw pages decline 75.6 percent. A number of boating magazines also had a difficult first nine months, including Power Cruising (-85.3 percent), Boating Life (-63.1), Power & Motoryacht (-56) and Boating (-50.6).
In October, Condé Nast shuttered four magazines which all saw significant losses through the first three quarters: Cookie (-18.2 percent), Elegant Bride (-39.2), Modern Bride (-24.2) and long-running Gourmet (-44.4).
The biggest gainers through the first nine months included Country Weekly (18 percent), OK! (15.5) and Family Circle (15.4).