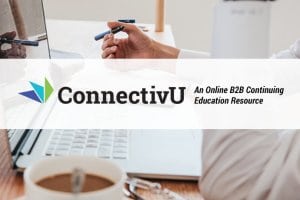 This week, Connectiv, the business information association, launched ConnectivU, an online continuing education platform for companies looking to stay ahead in the digital marketplace.
The program, a partnership with cloud-based platform Bluesky eLearn, is divided into 10 topics, presented by experts in the subject areas through 10-minute videos. Mike Marchesano, managing director of Connectiv, tells Folio: the initial focus of the platform is digital sales training, which he feels is a solid foundation because it not only is revenue driven, but also has the potential for both individual and collective impact for companies.
The video series, available to both membered companies and non-membered participants 24/7, covers a wide range of topics within the digital sales realm, including an overview of content and campaign types, media math and understanding the value of engagement, thinking like a digital marketer, native advertising, consultative questioning: finding the path to client satisfaction and renewals and more.
Leading the video series is trainer and coach Steve Bookbinder, CEO and Founder of DM Training.
"Steve has a long and extensive background in the digital community," Marchesano said. "He's trained over 50,000 people in his time in this area and conducted more than 5,000 workshops."
Along with his enthusiasm and technical knowledge, Bookbinder has experience training companies such as Hearst Corporation, NBC, Investopedia, Thomson Reuters, the Government Executive Media Group and more.
"He really has brought a wide range of skills and experiences to his training, so we think he's a great fit," Marchesano adds.
In addition to the video series, ConnectivU offers a resource center, complete with links to content that support the information covered in the videos, as well as takeaways and a self-certification process for users.
Aiming to personalize the user experience, there is also a monthly dial-in feature for companies to interact with the leader of the program. Marchesano tells Folio: this feature allows companies to ask leaders specific questions, and creates a space for personal interaction between the expert (for the initial launch, Bookbinder) and participating companies.
The idea for ConnectivU was planted about three years ago, Marchesano said, when Connectiv started a regional training program based in cities throughout the country such as Los Angeles, Chicago, Washington D.C. and New York.
"We had great sessions at those events," Marchesano said. "We had three tracks, one full day of digital integrated sales training with a live trainer, and two half day sessions, one on building data information products and one on content strategies, from social media to storytelling."
Overall, the sessions received positive feedback from the companies that were there, but Marchesano notes that it was difficult for Connectiv to scale the size of the events. Many people expressed interest in participating, but there was a problem: they couldn't seem to break away from responsibilities at their offices and thus, were not able to attend.
"With that feedback and thinking about how much effort was required by our team, we talked to our board and decided to come up with a different education strategy," Marchesano tells Folio:. "Thinking about other opportunities, we started looking at an online learning platform."
In a 2016 Connectiv member study, results showed that members felt there was a critical need for training, specifically training that was relevant not only for a team, but for independent growth as well. "With that feedback, the idea of online learning made perfect sense," Marchesano adds.
Moving forward, with the help of their board and revenue committee, the Connectiv team started plans to launch ConnectivU.
While the initial focus of the platform is digital sales training, Marchesano says ConnectivU plans to expand in the future, based on the feedback of members and non-membered participants, to other fields such as data information products, taught by Russell Perkins, founder of InfoCommerce Group, as well as events and conferences, content development, and advanced leadership.
Marchesano says the advanced leadership track will help executives gain skills involved with leading a group, and that Connectiv hopes to partner with a college or university in the area of executive education to enhance the user experience for this track.
ALM is the first company to participate in ConnectivU, followed by SourceMedia and Compliance Solution Strategies.
Looking ahead, Connectiv hopes to evolve through listening to the guidance of their board and revenue committee, as well as listening to feedback from their users.
"We think that for the business information and media community, we can provide online learning that can be personalized and that can adapt to the needs of the user community," Marchesano said. "We really want to be a learning community for our industry."