Connecticut Regional Publisher Cuts Frequencies, Reduces Workforce by 35 Percent

Moffly Publications lays off 18.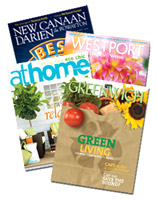 Westport, Connecticut-based regional publisher Moffly Publications today said it will reduce the frequency for a number of its magazines. The company has laid off 18 staffers—or about 35 percent of its overall workforce—as part of the shift.
Beginning with the January issues, Moffly's Westport and New Canaan-Darien magazines will go from a monthly frequency to bimonthly . AtHome in Fairfield County will go from six issues per year to four, starting in 2009. Moffly's Greenwich magazine will remain a monthly.
According to CEO Jonathan Moffly, the company has been affected by the "collective belt-tightening" as a result of the down economy and, in turn, has accelerated its rebranding plans from Moffly Publications to Moffly Media. "Moffly Media best reflects our broader offerings and capabilities," he wrote in an e-mail to FOLIO:. "We all know the future. Media consumers want information and interaction the way they want it and when they want it. And businesses want to reach those consumers in more and more targeted ways."
In addition to the frequency changes, Moffly named Amy Vischio as creative director and James Mauro editorial director.
Meet the Author
---