Connecticut Governor Cuts Magazine Subscriptions Out of State Budget

Rell says move will save $40K.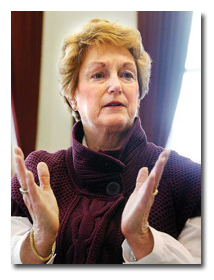 Connecticut Governor M. Jodi Rell won't be reading Glamour, People or any other magazine for that matter, on her lunch breaks anymore.
As part of a wide-ranging plan to save taxpayers $21.3 million for the fiscal year that ends June 30, Rell is canceling a number of state contracts for goods and services—including magazine subscriptions.
"Services such as car washes, giveaways like magnets and pens, niceties like magazine subscriptions and luxuries such as new office furniture are simply not affordable at a time when our budget shortfall grows every day and taxpayers are wondering how they will make their own paychecks stretch from month to month," Rell said in a statement.
So how much exactly will Connecticut save by cutting magazine subs for state workers? As much as $40,248, Rell said. With annual subscriptions at many major magazines at or below $10, Connecticut workers must have been getting a ton of magazines.
I wonder how much recycling all those magazines cost.
Meet the Author
---