Conde Nast Launches New Web Tool for Socially Aggregated Content

Gucci signs on as exclusive sponsor for September and October.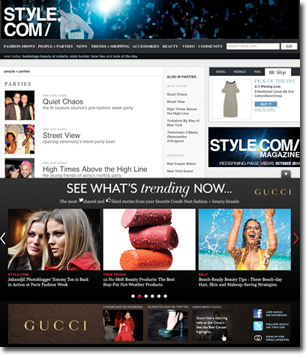 Conde Nast is bringing its most socially shared editorial content from its female-targeted titles (including W, digital and soon-to-be print Style.com, Glamour, Self, Teen Vogue and Lucky) together with a new web tool dubbed the Social Sidekick.
Set to launch Wednesday, Social Sidekick is an in-house developed technology that aggregates Conde's most popular content (according to shares, likes and reposts through Facebook and Twitter) into one window. This window, exclusively sponsored by fashion house Gucci through October, will pair Conde's editorial with Gucci-catered content below the featured articles.
Advertising sponsors will be able to update content real-time in order to coincide with the trending topics in Conde's editorial, as well as drive traffic through the Sidekick to its own social media presence, website and/or e-commerce offerings. Katie Bantz, who developed the Sidekick concept with Kaitlin Blankemeier, says the tool is transparent and can be accessed by both the Gucci and Conde Nast teams. The companies will work together on the shared CMS daily, says Bantz.
For the initial launch of the Social Sidekick with Gucci, "We have a direct feed from Facebook, Twitter and a third space used more as fixed placement for content. On any given day, Gucci can choose to fit another promotion in that space," says Bantz.
Social Sidekick advertisers will also be able to view user behavior data not usually accessible to marketing partners, according to Lou Cona, Conde Nast CMO; advertisers will be able to attain analytics detailing when users come to their channels from the Sidekick.
While Gucci has the right to renew this sponsorship come November, says Cona, "We have a very sizable list of people who would like to join in."
Though the Sidekick vision was born about eight months ago, the technology was developed in the last 2-3 months. The Sidekick is slated to appear on every article from participating Conde titles.
Meet the Author
---