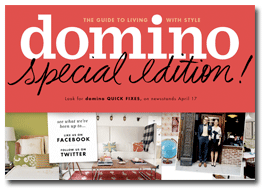 Condé Nast's much-beloved Domino magazine, which closed in 2009, is making a return to market as a special edition, called Domino Quick Fixes, set to hit newsstands in April.
The one-off issue will sell for $10.00 through July 16 of this year.
A second special edition is in the works for fall, though no further plans have been made.
The magazine, launched in April 2005, carried a ratebase of 850,000. During the first half of 2008, its total circulation was at 1.12 million, according to ABC. While ad pages fell 4.1 percent in 2008, ad revenue was up 24.3 percent to $60 million, according to Publishers Information Bureau figures.
The closing of Domino sparked an outcry among readers. In 2010, Domino was cited as a "most missed" magazine among 33 percent of respondents to a poll from FOLIO: sister publication min.
The Domino Facebook page has been active since the title's shuttering; news of the special edition garnered more than 1,000 "likes," 359 shares and 165 comments from followers. Domino's previous post on the page is from January 2009, announcing the magazine's folding, and has been drawing comments ever since. Last week, a user wrote, "I've kept almost every issue and everyone in my family knows not to touch them. Please bring back this magazine! I'll work for you for free."
Why now is the time to breathe life into this dormant title is not immediately clear, but the timing may suggest increasing confidence in the shelter category. Condé Nast's Architectural Digest saw an 18.4 percent bump in newsstand sales in the second-half 2011 over the same period 2010, according to ABC's most recent FAS FAX report. Hearst's House Beautiful and Meredith's Traditional Home also saw gains in single copy sales, at 1.4 percent and 4.5 percent respectively. Retail sales for Dwell fell 2 percent, compared to a 5.4 percent drop at Elle Decor.