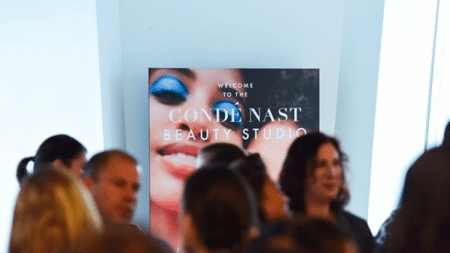 Condé Nast has found a new way to bring its readers directly to its advertisers. 
Led by Vogue beauty director Celia Ellenberg and Allure executive beauty director Jenny Bailly, the Beauty Studio works to use Condé Nast's influence within the beauty space, along with Spire's consumer insights and analytics, its branded-content video team, and its experiential strategy to offer its brand partners access to new advertising solutions. 
Created to offer both editors and brand partners access to an efficient start-to-finish content creation process, the Beauty Studio aims to produce and release content faster than its previous operations, as well as distribute that content to beauty consumers across all of the company's channels. Located at Condé's headquarters in New York, the Studio also provides editors a location for filming or photographing beauty demonstrations that are used across many of the brands' social, digital and print platforms.
"Using Condé Nast's Spire capabilities, we now have the ability to offer partners access to an end-to-end beauty advertising solution, complete with insight-led, quality content, targeted distribution across multiple platforms, and demonstrable ROI," said Lucy Kriz, Condé Nast's chief industry officer, in a statement.
The company says that the Beauty Studio fulfills a need within the beauty advertising marketplace by offering clients access to the company's influence in the beauty industry, which, according to a study published in June of this year through a partnership with Tapestry Research, is three times more influential to a consumer's purchase journey than any other companies' content.
David Lopez, VP of branded content video at Condé Nast Entertainment, says that the Beauty Studio represents both the art and commerce sides of the company, while also reestablishing the core goal of creating branded content, which to Condé is "the ability to leverage our intimate knowledge of the audience and consumer by delivering content they want in a way that only Condé Nast can do."
Lopez continues that the the Studio was developed by multiple teams at Condé as a way to create "an effective solution for getting quality content to market quickly to capitalize on current trends."
"We are always seeking creative ways to engage with our consumer in the digital space," said Kerry Sullivan, facial care leader of one of the Beauty Studio's presenting sponsors, Neutrogena. "The Beauty Studio from Condé Nast provides us a new and agile way to create high-quality content that is going to resonate with our consumers." The other presenting sponsor of the Studio is Dyson Supersonic™ Hair Dryer, and the space was furnished by Urban Outfitter Home.