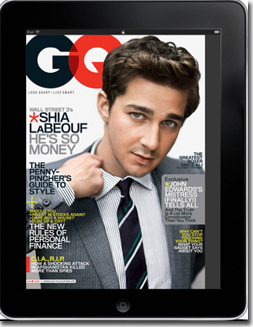 Since entering the App Store in May, publisher Conde Nast is reporting 242,000 digital downloads of its eight titles available for purchase, including Allure, Glamour, Golf Digest, GQ, Self, The New Yorker, Wired and Vanity Fair.
This number includes digital subscriptions, single copy purchases and print subscribers who chose to add digital additions to their packages. This last group consists of 136,000 subscribers.
In the month of June, 75,000 digital subscriptions were delivered, and 31,000 single copies were purchased. This includes the seven monthly titles, and the June 27th issue of The New Yorker.
Monica Ray, executive vice president of consumer marketing with Conde Nast says, "The digital counts are increasing every day, and while this represents a small portion of our subscription circulation, we find it incredibly promising, especially given the short time we have been marketing subscriptions."
Conde Nast will be including digital circulation numbers through June in its first half reports with the Audit Bureau of Circulation (ABC). Digital numbers could not be compared to print subs by individual brand at press time, as the ABC has not yet posted either its digital or print circulation numbers for January to June 2011.
On June 21, Conde announced its intentions to standardize the measurement of audience metrics in the digital market. Partnering with Adobe, the publisher will measure factors typical to print magazines (such as time of engagement), along with digital-specific activity such as users' 'finger engagement'. Conde Nast will be sharing the newly discovered info in forums such as the IDD and the MPA in order to level the digital playing field in the magazine industry.
Scott McDonald, SVP of research and insights with the publisher and chairman of the Print and Digital Forum, says, "It's those kinds of [situations] that you begin building consensus, where people can argue about it in the fresh air and sunlight of open forum."