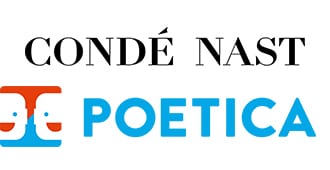 Condé Nast has acquired Poetica, a London-based editorial tech company.

Terms of the deal were not disclosed.

Condé Nast will integrate Poetica into its proprietary CMS, copilot. The tech allows for real-time, collaborative content management on any device, including smartphones and tablets. Fred Santarpia, EVP and chief digital officer at Condé Nast, says the deal helps them to continue their mission to build "the best possible editorial platform." And a company spokesperson tells min that the decision to buy was "the right solution for us at this point."

The spokesperson also indicates that the tech integration will begin shortly and will include training measures, but everyone will get up to speed quickly since Poetic will be added on top of copilot.

In addition to acquiring the platform, Condé will also inherit Poetic's leadership and team of engineers, which include co-founder and chief executive officer Anna Maybank (formerly of Bethnal Green Ventures) and co-founder, chief technology officer Blaine Cook (founding engineer of Twitter) and co-founder and chief product officer James Weiner (formerly of the UK's Government Digital Service).
Building out a robust, proprietary CMS has been a growing trend around publishing over the past few years, with companies like Forbes and Say Media taking it a step further buy monetizing their platforms outside their own companies. But for now, it seems Condé is building up copilot to serve its own needs.