Condé Nast's Flip Flops

Social networking site for teen girls to close December 16.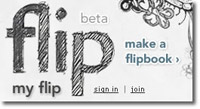 Flip.com, Condé Nast's expensive social network/virtual scrapbooking outpost for teen girls, has officially flopped. The site, which Condé acquired in 2007, will be shuttered in two weeks.
Like most publishers, Condé Nast has been scrutinizing its portfolio in recent months looking to cut costs—including some 5 percent of its overall staff, according to various reports. Unlike most publishers, though, the company has not been shy about cutting back on the online side (see: Portfolio.com et al).
Here's the note (via FishbowlNY) Flip's staff sent to members, dubbed, naturally, "flipsters":
Dear Flipster,

We are sorry to tell you that Flip will be closing on Tuesday, December 16.

If you have any flipbooks that you would like to save before this date, we suggest you print them. It's easy; go to the flipbook and click on the Print button just below it.

Thank you for your dedication to Flip and for making it an exceptionally creative community. Also, please visit our sister site, TeenVogue.com.

Flip Staff
In January, CondeNet announced that was shifting its focus away from Flip's destination URL toward popular social networking platforms like Facebook and MySpace.
It appears that approach didn't work, either.
Meet the Author
---