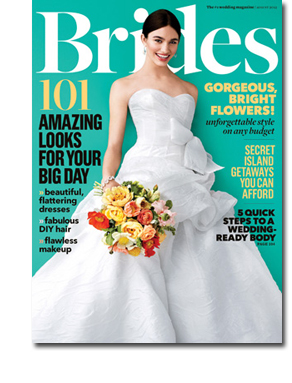 Brides is ratcheting back its print brand and investing more in its digital presence with a mobile-enhanced website. The 300,000-circ magazine is dropping down to a bimonthly frequency and the site will become fully mobile compatible and feature new tools and functionality to drive more engagement.
The magazine's last monthly issue will be December, with a January-March issue after that and then the bimonthly schedule will kick in with the April/May issue.
The site enhancements include new image galleries and more interactive tools like check-lists and countdowns as well as features that allow users to contribute and share content from web to mobile and back again. Brides.com averages about 1.2 million monthly uniques, according to the company.
The digital build-out fits with Condé's digitally-focused strategic plan, and Brides publisher Michelle Myers says that the combined editorial and business oversight of both digital print properties is a helpful structure to push through the dual platform changes.
In a recent interview with Folio:, Condé Nast CTO Joe Simon noted the company's push to re-integrate digital and print initiatives under a combined team structure.
SEE ALSO: Merging Brands with Technology
The magazine has been struggling on the newsstand and with advertising. Single copy sales are down 28 percent in the first half compared to the same period last year, per ABC—a contributing factor to the frequency change, Myers tells WWD. And ad pages are down about 11 percent through July, per Folio: sister brand min boxscores.
Indeed, when the magazine went monthly back in early 2010, the idea was to drive more subscriptions. But with the newsstand now particularly challenged across the board, the bimonthly frequency is an attempt to preserve subscriptions, give advertisers more time on the newsstand and address the changing ways readers interact with the brand. 
After examining reader engagement with Brides, the team learned that readers use the magazine for broader inspiration and information on wedding planning. The website, however, served the higher frequency, bit-sized information needs, with readers spending an average of 23 hours per week on the Web for wedding research.
"This change in frequency and the enhancements to the website really go hand in hand," Myers says. "What we'll be providing is a fully optimized digital experience for this consumer. She's not a shopper, she's a buyer. She has a plan and a deadline and she wants to look at thousands of dresses, save and share ideas, and return again and again to the tools, to the boards and to the magazine as the key elements of her wedding come together."