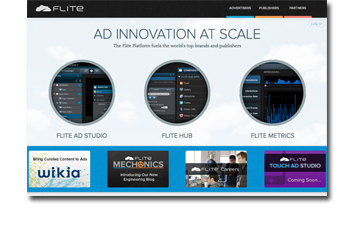 Flite, the cloud-based digital ad creation and measurement platform, has just added Condé Nast as an investor. The publisher joins Sequoia Capital, Hummer Winblad and General Catalyst, among others, with an 11 percent stake in Flite, which as so far raised about $26 million in capital.
Condé Nast will also use Flite's platform as part of its marketing and content development services for clients. "Pairing it with our award-winning custom content and creative, we'll be able to produce some of the most unique web ad experiences in the industry," says Condé Nast vice president of corporate partnerships Josh Stinchcomb in a statement.
Flite provides cloud-based delivery, creation and measurement tools for building and serving digital ads that are much like applications in their interactivity.
Marketers can create an ad using the Ad Studio, a turnkey creation tool that allows a user to select various components to build the look and feel of the ad. From there, Flite has partnered with third parties that provide interactive elements like social features, video, chat, purchasing and weather and movie listings to further supplement the ad.
And then what's a digital ad without measurement? Customers can also track in-unit analytics to adjust elements on the fly in realtime.
Condé Nast's investment—like the one it also did with ZipList—fits in with president Bob Sauerberg's digital strategy, but also represents a unique client/part owner arrangement with a service-oriented technology. The deal gives Condé Nast a broader array of ad services capabilities and an inside track on Flite's development—as the company grows, so does Condé's return.