Condé Nast's Wired, Reddit Team Up for Multi-Platform Ad Campaign

Print advertorial designed after user-generated conversation online.
Wired is getting creative with its advertisers, and having readers go along for the experience. In a new campaign designed by the magazine and client, user generated content is leveraged to provide a collaborative, multi-platform advertorial (below) that appears in the publication's October issue.
Using social news website reddit (owned by Condé Nast's parent company Advance), Wired worked with Fearless Media and video game publisher Bethesda Softwork to design a multi-platform advertising program. Using reddit's popular, virtual, crowd-sourced interview forum, IAmA, reddit users asked unfiltered questions to the co-creative directors of the anticipated video game Dishonored in a 4-hour "Ask me Anything," (AMA) interview in July.
With IAmA—which has been used as an online interview forum by everyone from President Barack Obama to magician David Blane—users submitted queries and voted up their favorite questions and responses in the discussion thread. The Dishonored 4-hour interview drew more than 27,363 page views and over 700 user questions and comments, which Wired then sourced for an advertorial.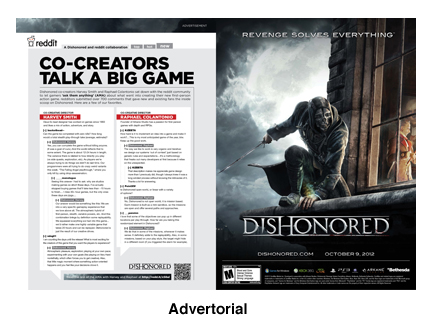 "We were talking about unique, never-done-before ideas," says Keith Grossman, associate publisher of Wired. "We wanted something that would get people talking, interested and engaged."
In order to enhance engagement, the magazine promoted the discussion across its own social channels. Wired's staff went through the user comments to pick out the ones that best captured the excitement of the campaign on the page. In addition to getting exposure through reddit, the client will also get its brand in front of Wired's audience of 3.2 million readers.
Grossman declined to comment on the pricing structure of a campaign such as this.
"Wired has a nice gaming component, reddit has an incredible gaming component and a very participatory audience," he says. "We realized we could use content from reddit to create an advertorial page that could live in our magazine. You need to let the idea lead."
To stay updated on the latest FOLIO: news, become a Facebook fan and follow us on Twitter!
Meet the Author
---