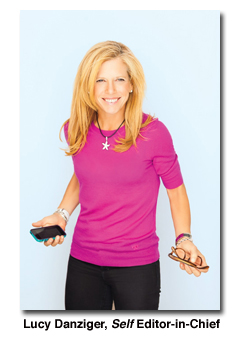 Magazine publishers from all industry sectors are searching for ways to court new audiences, bring in fresh advertisers and expand their digital presence. Condé Nast's Self magazine has redesigned itself with this new model in mind by introducing a more conversational voice, increased imagery, new content sections and a digitally-connected publication.
The new Self, which will be introduced with the March issue, has been enabled with some scanable pages connected to a Self PLUS mobile app and is packed with sharable, tweetable tips. The publication hopes to court the coveted Gen-Y demographic with its new look and feel—and the advertisers looking to sell to them.
FOLIO: sat down with Self editor-in-chief Lucy Danziger, who walked us through the various aspects behind the redesign and its implementation. In this Q&A, Danziger (pictured) outlines the new strategies the brand is bringing to the publication and highlights the challenges associated with reaching the millennial market.
FOLIO: What prompted the redesign?
Lucy Danziger: Self has basically enjoyed an audience of a million and a half readers and about four million online for a couple years. We realized we were reaching women in their 30s quite successfully, but we wanted to wrap our arms around this millennial audience in their 20s and grow the readership. We wanted to keep current readers engaged, and engage them further, but there is a huge Generation Y—there are twice as many in the world than Gen-X—and they spend $200 billion a year and have a ton of disposable income.
They grew up empowered, and don't need to be told to be empowered. But they still need and want a boost of support and inspiration—and Self wants to give it to them. Instead of saying that we're here to empower, we're telling them we're here to help. The interesting thing about growing this brand is we still want to give great information and confidence boosting tips and ideas, but make it a step-by-step, moment-to-moment progression that is fun.
That very much speaks to the mindset of women in their 20s—they want to be healthy, but they also want to have fun. We really needed to refocus the way we were talking to women. The new magazine breaks things down into momentary goals to help her feel inspired and supply her with tips.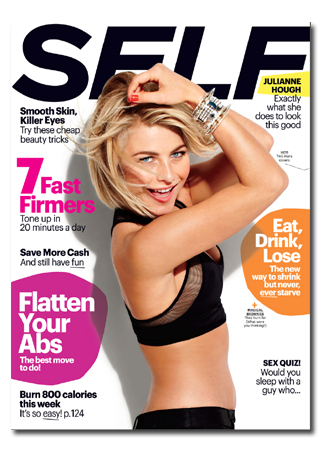 FOLIO: What new elements were brought into the redesign and why did you select these additions?
Danziger: There are three basic things that are hugely different. One is the architecture, one is the visual branding and the third is the voice. Instead of breaking things into subject headings like fitness, beauty and nutrition, we decided to simplify it and make a much more streamlined section architecture in the front of the book. 'You+Looks' is a new section and that encompasses beauty, style and outward appearances. 'You+Body' is the second section, and that incorporates fitness, diet, health and nutrition—the physical self. The third is 'You+Life,' which is all about the emotional and social.
The reason we made it 'You+' is because we wanted to put the reader right at the front and center of this whole new conversation. It's not so much about Self telling her what she should think about, but it's her coming to us and asking us questions through all of the different social platforms. Now we have this new voice—it's much more conversational in tone. The new architecture allows for a bold and beautiful design, letting the pictures really have air and less text. In doing so, we cut straight to the chase.
The architecture, voice and visual branding of bold, beautiful, strong imagery with less words is how much more women want information. This is a generation of women that can always search something with three taps of their fingers. They really want a trusted source, which is Self, and these gorgeous strong images. We know that they are pinning—we had 10 million pins and about 1.2 million women came to Self.com from Pinterest in January alone. Though it was pre-redesign, our high-water mark in December was 4.7 million unique visitors to Self.com and in January we reached 6.9 million. That was a jump in unique visitors in one month of about 2.2 million, which is almost 50 percent. We grew to almost 7 million and about a fifth or a quarter of that is coming from Pinterest.
The visual piece of the redesign is also a difference in the photographic style. We're trying to show women in the way they snap themselves—it's not so much a highly styled shoot as it is a very authentic feeling.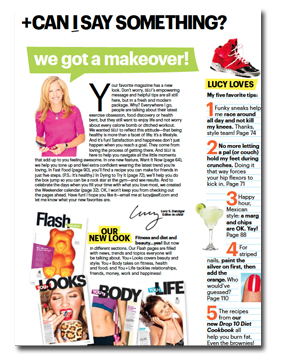 FOLIO: Do you think the shift to court a younger audience could alienate your existing Gen-X base?
Danziger: I think that's a valid question. One of the things we've been looking at are the habits of both groups—the 30 or 35-year-olds and the 25-year-olds. It turns out they have more in common than not. They're both very optimistic, open minded and trying to reach their goals. Yet, with a 25-year-old, she might have to delay some of those goals because of the economy or whatever else is going on in her life, but we know they do have a lot in common. We know that 35-year-olds will read the same imagery that a 25-year-old will read: If you're showing a picture, you can show it to them both and they'll relate to that.
The whole gen-blend is the Holy Grail for all marketers—whether you're Lululemon or Apple. They really want customization so people can take something and use it in their own way, which is why the Pinterest thing is so interesting. We have a page called 'Obsessed,' which is about things we love—whether gym bags or high top sneakers that are very fashionable—each one of these pages, I believe, whether you're 35 or 25, you're going to relate to because it's driven by real women, scenarios and moments.
Self is the same positive voice for women, just like it's always been. We've just now gotten a makeover and it's supposed to emphasize the fun. We wanted to repackage things for this very technical generation—one of the things we've talked about is making sure that every tip in the magazine is sharable, tweetable and repeatable. 
FOLIO: With these new elements you're bringing in, how does this help to support your audience as well as your advertising partners?
Danziger: The new voice and pages are the type of thing people will want to advertise with, sponsor or be next to. One of the pages is, 'Did You Do Something Different?' That's how women talk to each other.  It's a beauty moment that captures a real woman's voice. When we look at the language of these franchise pages, it provides a ritual for going to a page that you love. Whether it's the caption writing contest at The New Yorker or 'The Matrix' at New York magazine or pages that Self will now deliver month after month—a ritualized franchised page will bring new readers and advertisers who want to be there for this ritualized reading.
Digitally, the story continues with a new app called Self PLUS. When you download this free app to your phone, tablet or other device and hover it over a page will actually come to life in your tablet or phone. It's fun for us because we can give the magazine a digital, dynamic feeling—our print now plays in the digital space.
Stay updated on the latest FOLIO: news, follow us on Facebook & Twitter!