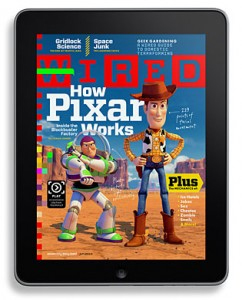 It's still early days with publishers and advertisers creating original, rich content on tablets like Apple's iPad, but Condé Nast is attempting to identify some best practices for advertisers in terms of content that's engaging and resonates with the user. To come up with these best practices, the big consumer publisher conducted more than 100 hours of one-on-one interviews and 5,000 in-app surveys based on user experiences with the GQ, Vanity Fair, Wired and Glamour apps.
Based on its findings, Condé Nast's five recommendations are: to take advantage of functionality, to provide clear instructions on how users should engage with an app, to supply additional information but avoid repurposing creative assets used for other media, to remember to tell a story and to lead users "down the purchase funnel."
Survey respondents indicated that they responded positively to the additional functionality of the iPad. With that in mind, Condé Nast suggests that advertisers include "compelling and unique experiences" with video, photo galleries and links to Web sites—especially links that enable users to directly purchase the featured product.
Navigation also is a big issue. The publisher says ads that included "clear calls to action and cues on how to engage the creative" were more effective among users who participated in its survey. Icons "should be clearly visible and intuitive and state whether more content or additional functionality can be found."
Condé Nast also noted that users preferred to read the magazines in portrait mode, but to watch video in landscape. Not surprising, the publisher said there also was an expectation among users for flexibility in buying options, including a single copy purchase, a digital subscription or supplement to their print subscription.
And, in a nod to its own magazine apps, Condé Nast says 80 percent of respondents indicated that the content and experience associated with the apps met or surpassed their expectations. Eighty-three percent reported a "likelihood to purchase the next month's digital issue."