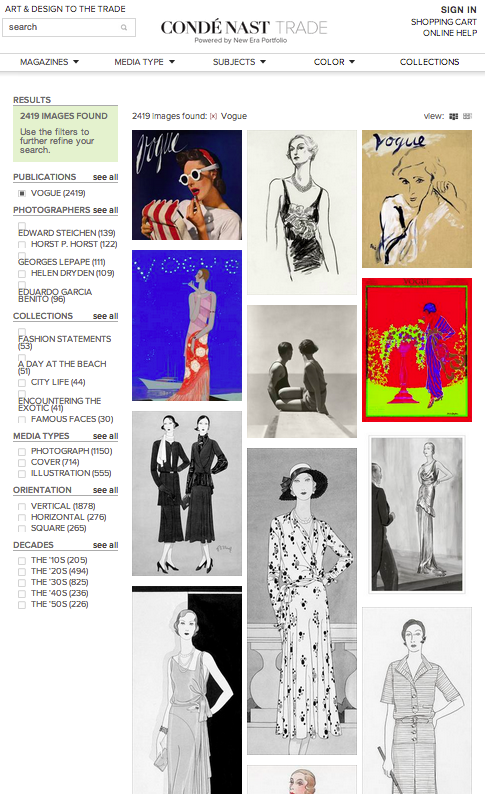 Condé Nast is taking its glossy, high-style images off the page and into the b-to-b marketplace.
The publisher has launched CondeNastTrade.com, offering the interior design community access to select photos and illustrations from 11 of its titles. Close to 7,000 images are currently available on the site for custom installations via New Era Portfolio, a fine art publisher and Condé Nast's partner in the effort. Pricing for the service varies significantly based on the solution the designer needs.
Condé offers a similar consumer-oriented service through its digital storefront, Condé Nast Collection, and was providing custom reprints for designers offline for several years.
"We offered this in an offline capacity for a long time, working directly with designers," says John Kulkawik, vice president of Condé Nast Licensing. "More and more, we were getting questions from designers about wanting to search our archive or access it online to do the research on their own instead of relying on our archivists to do the research for them."
While the consumer and b-to-b businesses are alike, Kulkawik says they're not the same: One is mass produced, one is highly customized. The levels of service differ greatly. He wants to keep them separate. Users on CondeNastTrade.com are asked for their company's federal tax ID number before they can sign in to purchase an item.
"We want to make sure that this truly is a b-to-b site," he says. "There are different substrates offered, the level of handling here is different. This is much more about a unique installation-what is the exact right image for the exact right place. A lot of these sales end up happening over conversations as opposed to being a one-off purchase."
In that respect, the effort is similar to the Vogue Archive, launched in late 2011. Other aspects of the sites-a subscription vs. a transactional business model and access to all content, as opposed to select content-differ though.
The company has nearly 8 million images in its archives, but has culled that down to just over 6,700 based on frequency of requests and contractual considerations with the photographers and illustrators.
While those considerations make things difficult for an archival project like this, Kulkawik says the company has no plans to change its priorities in dealing with artists and content creators moving forward.
"First and foremost, our effort is to produce the best and highest-quality media we can," he says. "Right now this work is not driving that effort. This is about what we can do as a company to support our core goals. This is leveraging the work that's been done here for many, many years."
To stay updated on the latest FOLIO: news, become a Facebook fan and follow us on Twitter!