Condé Nast to Launch Newsstand-Only Special Editions

'Up to six' branded specials planned for second-half 2010.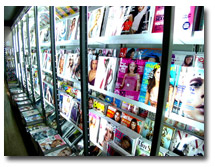 Condé  Nast has announced that it will be launching "up to six" newsstand-only special editions starting later this summer. The specials will be published under the Bon Appetit, Glamour, GQ, The New Yorker and Vogue brands.
According to the company, the editions will leverage the magazine brands, but will focus on specific content verticals or features—such as Glamour's Dos & Donts franchise. Glamour will also be the first special edition, hitting the stands in August, says a spokesperson.
The specials will be priced in the $9.99 to $12.99 range, the spokesperson says.
While special editions have traditionally been solid performers on the newsstand—leveraging a long shelf life and high price points—the retail environment has been less than cooperative. In the last two years, annual unit sales of audited publications are down 23 percent. In January, Meredith scaled back its special interest publications from 150 to 90, citing the recession's impact on home improvement projects.
Meet the Author
---