Condé Nast Internal Memo: 'Managing Through Challenging Times'

CEO calls for staffers to 'manage costs,' make 'difficult decisions.'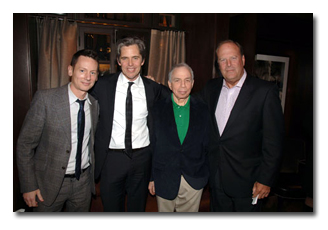 Condé colleagues: GQ editor-in-chief Jim Nelson, publisher Peter  Hunsinger, chairman Si Newhouse and CEO Chuck Townsend in headier times.
"Managing Through Challenging Times." Is that the understatement of the year? No, it was the subject line of an e-mail Condé Nast CEO Charles Townsend sent to staffers Thursday.
As news that the national unemployment rate jumped to 8.1 percent last month—the highest in 25 years—as a whopping 651,000 people lost their jobs, the mega magazine publishing chief executive called on his employees to "prudently and responsibly manage our business costs and expenses."
While Townsend didn't detail any specific cost-cutting initiatives, he did say the company will need to make "difficult decisions to manage costs and ensure our financial well-being." Are more layoffs to come?
Late last year, Condé Nast laid off about 5 percent of both its print and online staff. In December, Condé closed its syndicated blog network and scrapped Flip.com, its social networking/virtual scrapbooking site for teen girls. In January, Condé Nast shuttered Domino, its four-year-old shelter title, and its accompanying Web site.
Here's Townsend's memo, via All Things Digital:
From: Townsend, Chuck
Sent: Thursday, March 05, 2009 05:04 PM Eastern Standard Time
To: Conde Nast Publications
Subject: Managing Through Challenging Times

I continue to believe that there are two things that make our Company truly unique, world-class brands and remarkable employees. This statement is even more true today as I watch how Condé Nast is managing through this challenging economy.

While advertising pages are down, Condé Nast is gaining critical ad revenue market share through the early part of 2009. Perhaps more importantly, our consumer connectivity, as measured in key circulation statistics, is particularly strong.

So, while our Company is not immune to the economic stress that has been experienced by the media community, we have made adjustments to secure our ongoing stability, just as each and every one of us has had to personally deal with the economic challenges we face.

Unavoidably, as the downturn extends, we have to make additional difficult decisions to manage costs and ensure our financial well-being. These decisions involve all of us. We'll all have to do more with less and accept that some of the benefits and resources that were available to us in robust economic times will have to be scaled back–and revisited when the economy and our business recover lost ground.

The best course of action is for us to prudently and responsibly manage our business costs and expenses through these troubled waters, assuring us the opportunity to fully participate in the recovery that lies ahead. At that time, we will take great pride in what we accomplished.

I can only ask that you join me in these efforts to ensure the continued success of our great Company.
Meet the Author
---