Condé Nast Eyes Eye-Tracking

Publisher to monitor effectiveness of ad campaigns; others wait on technology.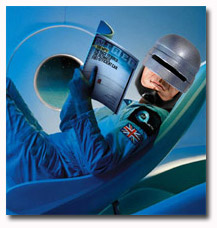 When the thought of "eye tracking" comes to mind, one may invariably picture some amalgamation of popular sci-fi flicks—the Matrix, Minority Report, Total Recall—with test subjects wearing cumbersome, Robocop-style headgear to trace eye and head movement.
For magazine publishers, these images are edging closer to reality.
Today, the clunky headgear has been replaced by cameras that are built into computer monitors. By collecting and analyzing data like "first gaze" and a person's vision path across a page or screen, publishers can use the information to help design covers, monitor the effectiveness of advertisements and help plan Web site redesigns—and they are beginning to do so. Condé Nast recently partnered with eye tracking service provider MediaAnalyzer to analyze the effectiveness of its clients' ads, especially for its long-term advertisers.
According to Scott McDonald, Condé Nast's senior vice president of marketing research, the partnership enables the company to offer "a unique value add to advertisers in our publications." Using MediaAnalyzer's methodology, he says, "helps our advertisers maximize their ROI and determine whether readers are engaged with their ads."
MediaAnalyzer's Web-based "AttentionTracking" technology tracks the path of eye movement while a print or online ad is being viewed. This, combined with a questionnaire, allows MediaAnalyzer to quantify the ads that leave the most lasting impressions. Or attempt to, anyway.
"In an increasingly competitive magazine market—with publishers fighting declining circulation numbers and a shift in ad dollars to other media—it is important that publishers continue to differentiate their products and offerings from the competition," says Charles Boyar, MediaAnalyzer's vice president of U.S. operations. "Research can help publishers create better-looking and more compelling magazines [and Web sites] and can aid them in helping their customers to create ad campaigns that will best address readers."
Are Other Publishers Buying It?
Despite some of the stated benefits, magazine publishers so far have been slow to buy into eye tracking technology, even online. So far, Condé Nast is MediaAnalyzer's only magazine client.
"Most of the eye tracking technology science is used for video and Web work," says veteran magazine consultant Bob Sacks. "When we start to get into digital editions, then the science becomes more meaningful and important, e-paper, eye tracking technology and a Web connection changes everything."
"When used appropriately, eye tracking studies have the most immediate impact for magazine publishers as they relate to Web sites," says Tim Kauffold, director of business development at Oneupweb, an integrated online marketing firm that provides eye tracking services. Kauffold says studies can cost as little as $4,000 or "well into six figures." Oneupweb does not have any magazine clients.
"The demands for user attention online are huge, and it's critical for sites to maximize all the opportunities they have to interact with their users," says Kauffold. "Poor navigation, cluttered content, and unnecessary confusion can force users away. This is a huge loss for publishers, especially in the relationship with their advertisers."
But as print magazines continue to see their business move online, Sacks says more publishers will start turning more to eye tracking services. "When we as publishers adapt to the next level of digital information distribution, and abandon a print-only mentality, we will have to use all the science and technology at our command," says Sacks. "Our use of eye tracking technology will grow as we do."
[IMAGE CREDIT: Wired image: Condé Nast 'Point of Passion' campaign; photo illustration: FOLIO:]
Meet the Author
---