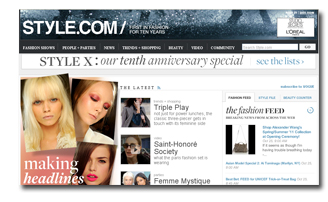 In a move that it says better aligns its media products, Condé Nast today has moved Style.com under the Fairchild Fashion Group, which includes Women's Wear Daily and WWD.com.
"With WWD/WWD.com and Style.com under the same roof, Fairchild Fashion Group will serve the needs of both business professionals and fashion-obsessed consumers globally," Fairchild president and CEO Gina Sanders says in a statement announcing the change.  "It's the whole package."
Current Style.com editorial staffers are expected to make the transition to the Fairchild groupp and will report to editorial director Peter Kaplan. Integrated sales between WWD/WWD.com and Style.com will be handled by Will Schenck, vice president and chief revenue officer.
Condé Nast says that under Fairchild Fashion Group management, WWD, WWD.com and Style.com will "each retain their unique brand identities."