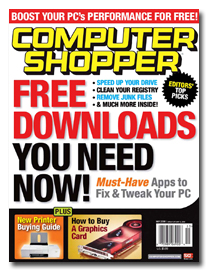 Another technology magazine is going online-only.
SX2 Media Labs has decided to fold the print edition of Computer Shopper in order to focus on its Web site, ComputerShopper.com. The April issue will be its last.
"Not surprisingly, as a tech publisher, consumer behavior and advertising dollars are shifting online," ConsumerShopper.com general manager Josh London told FOLIO:. "In particular, consumers in this space prefer to get their information online. They can compare products and vendors with immediacy online. This is a transition for us. We understand it."
It was unclear how many employees were laid off in association with the folding. London declined to comment on staffing issues.
London said ComputerShopper.com has experienced "dramatic" growth in recent years in terms of advertising dollars and audience. He declined to offer annual sales numbers but said traffic to the site is up to about 1 million monthly unique visitors and about 3 million page views.
Computer Shopper was founded in 1980 and carried a circulation of 250,000. Headed by CEO David Sills and Barry Schwimmer, SX2 Media Labs purchased Computer Shopper three years ago from CNET Networks, which was purchased last year by CBS for $1.8 billion.