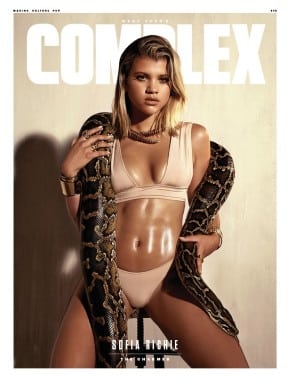 Complex, the bi-monthly pop culture title launched by fashion designer Marc Ecko in 2002, is closing the doors on its print magazine, a company spokeswoman has confirmed to Folio:.
The December/January 2017 issue, out now, will be its last.
The announcement comes months after Hearst and Verizon acquired the Millennial-minded brand, in April, as part of a joint venture between the companies. That deal reportedly valued Complex Media — which includes the magazine, ComplexCon festival, and an expansive network of websites and digital video channels — at over $250 million.
While an unspecified number of staffers will be shifted to new roles, others have been let go, according to the spokeswoman, who said those laid off comprise "less than ten percent" of staff.
Where print readership may be fading, Complex has found a considerable niche online — particularly on social media, where actions taken on the brand's various accounts outnumbered Buzzfeed's for the month of October.
It's not a huge leap to surmise that, after shedding the print magazine, Complex will look to expand upon its "video-first approach" — a strategy explicitly referenced by Hearst and Verizon at the time of their acquisition.
The writing was on the wall in September, when the Hearst-Verizon venture combined Complex Media with two newly launched video networks — RatedRed.TV, which ostensibly caters to conservative Millennials, and news/comedy network Seriously.TV — creating Complex Networks, the components of which Hearst and Verizon claim generate more than 500 million video views each month from a combined social audience of over 75 million.
"You're looking at a set of digital video networks that will continue to grow production, distribution, and monetization of must watch programming for an audience that is as massive as it is engaged," said Complex CEO Rich Antoniello, who co-founded the brand with Ecko, at the time.
Just how many staffers will be cut as a result of the magazine's closure remains unclear.
"As Complex embarks on a rapid expansion of premium video creation across the company's networks and with a growing list of distribution partners, the company is reallocating certain positions to address its content needs," reads a company statement provided to Folio:. "We're deeply committed to the ongoing evolution of our brand and our long-term plan to be a leader in digital video entertainment. While we're reducing staff in some areas, we plan to increase to meet our needs in others."
This is a developing story.