Complex Media Acquires Men's Apparel Media Company, Sole Collector

Deal fills gap in portfolio; provides new opportunities for e-commerce.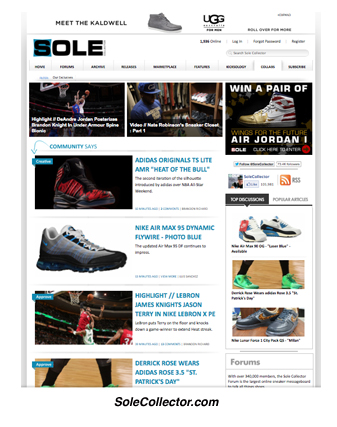 Complex Media, a multimedia network of entertainment, sports and lifestyle properties, has acquired Sole Collector, a consumer sneaker website, iPad monthly and quarterly print magazine. Though Complex Media posted a record 66 million unique visitors and 735 million pageviews in February, with over 30 percent of its traffic generated via social platforms, the company's CEO says the acquisition fills a gap in the group's portfolio.
"This acquisition checks a lot of boxes for us," CEO Rich Antoniello tells FOLIO:. "When we go into a category, we don't participate with one or two sites but we go very deep. We also try to close categories out if we can—whether it's style, sneakers or music—we want to go as deep and specific as possible. Sole Collector has been around in the sneaker game longer than anyone else has and it's a name that means so much, both on a qualitative and quantitative basis from an SEO perspective."
Sole Collector was founded 10 years ago by Steve Mullholand, and is based in Portland, Oregon. According to Google Analytics, the site generates 4.4 million unique monthly visitors and has the world's largest online sneaker forum, with over 385,000 members. Sole Collector offers a sneaker database with over 15,000 listings, publishes the quarterly Sole Collector print magazine and each month publishes Sole magazine on the iPad.
Antoniello declined to comment on financial terms of the deal.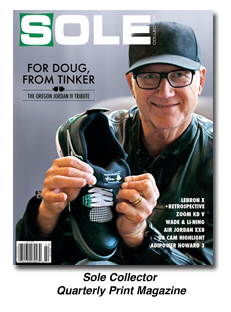 He says that Mullholand first approached Complex about the acquisition, adding the company plans to pour resources and business intelligence into Sole Collector to foster growth at an accelerated pace. As of right now the staff is expected to be maintained.
"They have some very strong numbers but we feel like we can double the size of the site from a reach and engagement perspective, but that's just a small piece," says Antoniello. "They're one of the last sneaker sites out there and one of the most respected—it would take us years to build our own property like this and get to this point."
He adds that Complex.com and Complex Magazine, as well as the company's more than 90 properties within the group's portfolio, have always been designed to serve product and style-focused men. In the long-term, he says the company plans to stay very focused on the same demographic and introduce a diversified revenue stream.
Antoniello says the company did a soft launch on video initiatives in January and plans to get more aggressive in the space. Additionally, he says that the company will also role out "a fairly significant" e-commerce effort in the fourth quarter of 2013, and plans to include Sole Collector in the process.
"They fit very nicely into all of our new initiatives—a pageview isn't just a pageview when it comes to Sole Collector," he says. "When you're that focused on sneakers and you're disproportionately one of the most respected sites out there, the ability for you to drive conversion at the bottom of the funnel is very large. They've never scratched the surface there and we feel we can go very deep for that."
If you're looking to better understand how your brands can thrive in a converged media landscape, register now for FOLIO: and min's MediaMashup event on April 16 in New York. 
Stay updated on the latest FOLIO: news, follow us on Facebook & Twitter!
Meet the Author
---