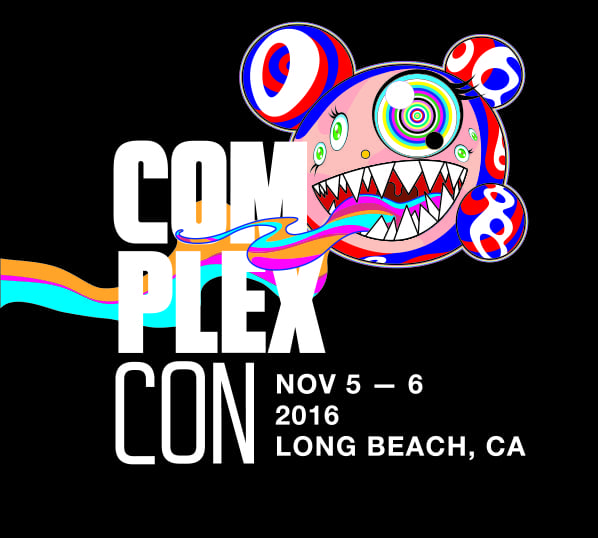 Pharrell Williams and Takashi Murakami have signed on to help plan youth-minded media brand Complex's most ambitious live event to date, ComplexCon, a two-day cultural festival set for November 5th in Long Beach, California.
In the most significant announcement to come out of Complex's unofficial Newfronts presentation Monday evening at its Time-Life Building headquarters in Midtown, Marc Ecko revealed his vision to "bring the URL to IRL"—in other words, bring Complex's massively popular digital content into the "real" world of live events.
"This is a cultural world's fair," Ecko told Folio: earlier on Monday. "That's what we're looking to build. We need consensus. This is about the community. It's about our generation and us putting the flag in the ground together. It's not just about our brand."
Aiming for a blend of Coachella's festival-like energy with the intellectual flair of SXSW in a mix of pop culture, art, music, food, style, and sports, Ecko says he hopes to draw up to 15,000 attendees for each of the two days of concerts, exhibits, panels, and other experiences.
Ecko's first message to the assembled media buyers and potential advertisers Monday evening was, "We told you so," referring to the way in which Complex Media—no longer simply a magazine—had continually defied expectations with its growth in both audience and influence since its inception in 2002.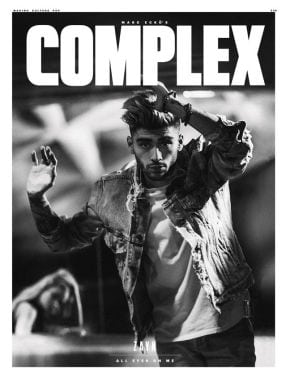 Complex claims to receive over 57 million unique visitors each month, most of whom sit squarely within the coveted millennial demographic. Last month, Complex became the Hearst/Verizon joint venture's biggest acquisition yet. That was on top of a $21 million minority investment from Hearst last year.
Ecko says the influx of funding has nothing to do with Complex's plans to expand its events business with an annual festival, a move that's been in the works for almost two years.
"We are very ambitious, to say the least. But we are also, as operators, very commercially responsible," Ecko tells Folio:. "It doesn't give us license to go and just recklessly design and build things. We've built things with purpose over the years, and I think that's one of the reason this made sense to our partners. We say what we mean and we mean what we say. That hasn't changed."
Pharrell Williams will serve as cultural director, helping curate the event's programming. Murakami, a renowned contemporary Japanese artist, designed ComplexCon's brand identity and will help oversee the overall event aesthetic.
Additionally, ReedPop, a pop culture group within Reed Exhibitions that organizes Comic Cons and Penny Arcade Expos around the world, has been identified as a partner.
The lineup, still in development, as well as further curators to join Williams and Murakami on the host committee will be revealed throughout the summer in a process Ecko compared to the unlayering of "a blooming onion."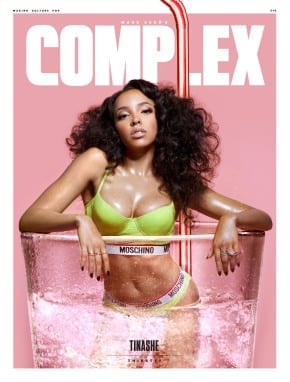 "One layer at a time we'll peel it off," he says, "and more of the host committee will get announced in the arts and music and performances and the arena component. We have so much to share with the universe. It's going to be fucking awesome."
In addition to a new and recurring revenue stream, the annual event is intended to be a boon for Complex's growing digital video business—before, during, and after.
"Frankly, we wanted to create more strategy around our content development," Ecko adds.
A "Road to ComplexCon" video series will be produced to build up to the event. On-location video will include live capture at ComplexCon, which Ecko says he hopes will enjoy widespread social engagement and sharing, as well as more-produced content to be deployed afterwards.
The same for media companies in all stages of the shift from print to digital, the hope is that the expansion of a new content channel will complement the others, raising the brand as a whole. Editors will be heavily involved. The October/November issue will be devoted to ComplexCon. Ecko says he drew inspiration from the way Disney used its weekly TV specials to draw visitors to Disneyland.
"Sunday nights, those first ten minutes were kind of like [an homage] to Disneyland. That's what this is, our traveling Disneyland."
In the end, the goal is clearly to establish another youth touchpoint for the brand that styles itself a "millennial juggernaut," valued at upwards of $250 million and now backed by two of the largest communications companies in the world.