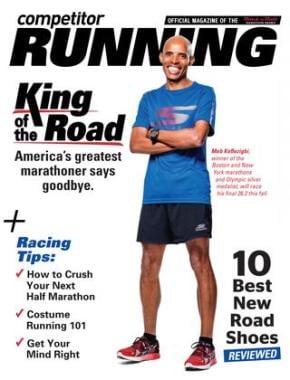 After a 30-year run, Competitor Running has shuttered its monthly print issue and laid off its editorial staff, with the November edition slated as the last for the publication.
The news of the magazine's closure comes just days after Ironman/World Triathlon Corporation (WTC) announced that the sale of the San Diego-based Competitor Group's media properties, including VeloNews, Triathlete, Women's Running and VeloPress, to Pocket Outdoor Media (POM), an organization co-owned by Felix Magowan, who previously owned VeloNews. The terms of the agreement were not disclosed.
Among those let go is Jessie Sebor, a rising star at the organization serving as VP of media, recently promoted to that role after a seven-year run as editor-in-chief of Women's Running.
After being promoted to VP of media earlier this year, Sebor took many lessons from her tenure at Women's Running, where she helped the brand become an advocate for inclusion and empowerment, featuring plus-sized women and a woman in a hijab as cover stars and including transgender athletes in the magazine's conversations.
Things appeared to be on the rise at Competitor Running, too, which unveiled a rebranding and redesign under Sebor's leadership just last month.
"While we're thrilled to have a magazine with such a strong legacy, it was time to shake things up," Sebor told Folio: at the time. "Our central goal was to underline Competitor Running's position as the trusted source for runners — this is of course why we added 'Running' to the name."
Felix Magowan, co-owner of Pocket Outdoor Media, said Competitor Running was mainly a "house organ" for the Rock'n'Roll marathon series, hosted in 30 cities throughout the world, per the Times of San Diego report.
"If you divorce it from that, it doesn't really work," said Magowan in a statement. "It's a marketing vehicle for an event, and if it's no longer associated with that event, it can't really survive."
Magowan also noted the printing and distribution costs of Competitor Running, stating that the organization could no longer cover it "so it was kind of a no-brainer decision."
"If a print magazine doesn't have paid circulation revenue source, it's very hard to make money in this day and age," he added.
Back in June, Competitor Group and its Rock'n'Roll running series was acquired by Ironman. The agreement for Ironman to then sell off the media brands to Pocket Outdoor Media was finalized on October 12.