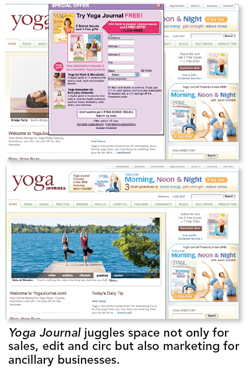 While most magazine companies will agree that the most important
element of a Web site is the editorial content, there are many other
departments that are vying for prime space on the homepage. The
circulation team wants a prominent spot for its "Subscribe Now!" button
while the sales team wants that top banner ad space. If your company
happens to sell additional non-magazine products, they'll want some
space, too. So how do publishers negotiate who gets what?
At Hearst Digital Media, dedicated space is assigned to each
department and all parties sign off on the template, according to SVP
and general manager Chuck Cordray. The space each department receives
is based on test results. "For example, we found that subscription
marketing works better at the bottom of the page than [paid] ads do,"
Cordray says. "It's a good spot because subscription marketing tends to
work best when the person is interacting with the content. They're more
primed to convert."
But that doesn't mean that departmental debates  over the space
don't come up. "Each group essentially wants the highest and best
placement but we're seeing that it works well for us to rely on the
data to tell us what to do," Cordray says. "It's really not any
different from when a print magazine is deciding its layout."
Group-Specific Performance Metrics
Cordray says that a different metric is used for each department
to determine what space it will receive. For the editorial team, the
company uses "content velocity," or how many pages a consumer will
click through before leaving the Web site. "The goal is to get
consumers to read through 10 to 20 pages before leaving," he says.
For advertising, Hearst looks at "clarity of experience," or
making sure that consumers are clear about the fact that they're
reading an ad. "We want them to know what's content and what's not,"
Cordray says. "But we also want to offer them flexibility and
variability. If everything's always in the same place, that's not a
good ad or user experience. We have to keep our consumers visually
interested."
And for subscription marketing, Cordray looks at the overall
yield per unique visitor—or how likely the user will convert—but the
conversion of total traffic is most important. "So we would look at
conversion in terms of percentages of uniques coming to the magazine
sites as a measure of how we are doing overall, and then look at
individual units, etcetera, as an element to maximize within that mix,"
he says.
A Constant Battle
At Active Interest Media's Yoga Journal, the topic of Web space
is always up for negotiation. In addition to circulation, advertising
and editorial, space has to be made for Yoga Journal's product
business, conference business, insurance program for yoga teachers and
teacher directory. The situation got especially sticky in 2004 when
Yoga Journal decided to rebuild its Web site.
"It was brutal," says circulation director Barbara Besser.
"Everybody was arguing that their business had to be represented with a
prime space on the homepage. We would have group meetings to fight it
out."
The circulation department had some other advantages. At the
time of the redesign, Yoga Journal made so much money from online
subscriptions that no one suggested their placements should be removed.
The team tested cover ads on the upper right and left hand section of
the homepage as well as pop-ups in order to pull consumers in. And when
it was time to prove that they deserved to keep their placements, the
department spoke in dollars. "It's better to talk in dollars than
subs," she says. "Selling $20,000 worth of subscriptions sounds way
better than selling 2,000 subscriptions."
Still, it's online editorial director Andrea Kowalski who makes
the final decision regarding Web space for Yoga Journal and Vegetarian
Times. "Because of my background, I'm a bit biased, so while I'm
looking to accommodate all of the departments and revenue streams, I'm
also conscious of the user interface. That's why we have a prominent
editorial well where readers know that they can go to and not be
solicited or sold to."