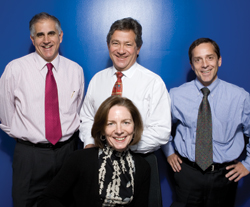 "It's time for leaders to lead."
Those were the words of incoming American Business Media chairman and Meister Media CEO Gary Fitzgerald at the ABM Spring Meeting in May. Fitzgerald was addressing the need for publishers—who at the time were feeling some softness—to adapt to a rapidly changing market.
Then the credit crisis erupted and the economy plunged into recession. Week after week, FOLIO: Alert is filled with stories of publishers doing what they've always done in hard times: Duck and cover, slash jobs to try to save expenses and hope the storm passes sooner rather than later. At press time, the numbers included 22 at American Express; 30 at Southern Progress, 22 at Active Interest Media, 20 at Hanley Wood, 111 at Rodale and as many as 600 at Time Inc.
Yet hand-in-hand with the mass lay-offs have come announcements of corporate restructuring from publishers as diverse as b-to-b publisher Source Media and enthusiast publisher F+W Media (which both regrouped their operating structures around audience communities rather than media channels), Nielsen Business Media (which combined content development and distribution for Adweek, Brandweek and Mediaweek), and of course, Time Inc..
But which of these reorganizations are true strategic repositionings, designed to prepare their companies for the new multimedia workflow and revenue opportunity, and which are just cost cutting measures where the companies are reshuffling the deck chairs on a sinking ship? "These companies are doing the right thing to survive in extremely challenging market conditions as well as to change the underlying business models to respond to the long-term secular changes in the media and magazine business," says Tom Kemp, CEO of Oakstreet Media. "If these changes make long-term sense and improve the efficiency of the business and create the right opportunities for growth when the economy resumes growth, then these companies will be more attractive. However, if these moves are simply short-term cost cutting that results in limiting the growth opportunity in the future, then the companies will be less attractive, and result in reduced valuation. Cygnus [Business Media] is a good example of the latter."
Source Media, which publishes nearly 70 magazines serving the financial industry, first announced its restructuring in August. This article looks at how the publisher is facing the challenge of implementing a dramatic new workflow across every group, while at the same time dealing with the fact that it's a single-market publisher in a category that may be the hardest hit of all.
"Virtually No Advertisers Will Commit To Long-Term Programs"
In an 1,830-word memo announcing the reorganization to staffers last August, CEO Jim Malkin outlined the market realities facing the company. "Our clients in the financial services industry are getting clobbered. Wall Street lost a record $11.7 billion in 2007 and another $22.4 billion in the first quarter of 2008. . .It is estimated that 74,000 financial services jobs have been cut over the past 12 months."
The memo continued, "Our clients who advertise to our readers don't know what they can successfully sell to firms that are unsure of their future. There are fewer industry participants to subscribe to our services and virtually no advertisers who will commit to long-term advertising programs."
At the time, Source Media's print advertising was off 17 percent or $6.8 million from 2007 (print accounts for nearly 57 percent of the company's revenue). Debt was $172 million. "Despite our healthy 'performing loan' status and our low leverage ratio of about 4.5x, our interest costs have increased by 30 percent, which translates into an additional $4.3 million of cash interest payments that we have to pay each year to our lenders," wrote Malkin.
And this was in the summer, before the economy really went bad.
Focus on Community, Not Channel
For Source, the answer is a radical repositioning in which it shifted its nearly 70 magazines and related Web sites, professional services and events into four business groups—Banking, Capital Markets, Technology and Securities and Professional Services.
Former Wicks Business Information CEO and executive vice president and managing director Doug Manoni leads the Banking division, which includes flagship American Banker and other banking magazines, the Mortgage group, the Payments group and Credit Union Journal.
Former Time Inc. Fortune/Money group publisher Mike Dukmejian now leads the professional services division, which includes Financial Planning, On Wall Street, Employee Benefits News and Accounting Today.
Rob Whitaker, formerly group publisher of the Investment Advisor Groups, is now head of the Technology and Securities division, including DM Review, Health Data Management and Traders. Mike Stanton, publisher of The Bond Buyer, is now head of the Capital Markets division, which comprises The Bond Buyer, Investment Dealer's Digest, Asset Securitization Report and Mergers & Acquisitions Journal.
Each community head is responsible for strategy, acquisitions, partnerships and revenue within their group—including print, online and events. Manoni is the only one of the four who also carries the designation of corporate officer and will attend quarterly board meetings with the rest of the executive team. That led some observers to suggest Manoni's corporate officer designation could be intended by Source Media's private equity owner Investcorp to signal that a succession plan is being created in the event that current CEO Jim Malkin left the company, something both Source and Manoni dismissed.
Editorial might be the biggest change. Editors are no longer assigned a specific platform but rather combined into one group that pools resources under chief content officer David Longobardi. Editors are expected to contribute to every brand within their group and across each type of media (while F+W also grouped its resources around communities, the company is not pooling editorial).
Source did away with its central conference group and folded those assets into the four respective groups, where editorial handles programming and content development while event staffers coordinate with editorial and handle event logistics. Sales functions were also merged into the appropriate communities.
Marketing operates as a unit organized around advertising and marketing, circulation and audience development, paid circulation and conference marketing, with a group marketing director assigned to each community. Each group marketing director reports to executive vice president of marketing and strategic planning Anne O'Brien. "We're finding opportunities internally to cross-sell between activities," she says.
For example, Source has several strong events, including the Best Practices in Retail Financial Services Symposium, where attendees include senior-level bank executives who are strong subscription prospects for American Banker. "Now we can talk as a team about our individual campaigns," says O'Brien. "Somebody can say, 'Oh you're doing this, I'm doing a subscription campaign at the same time. Maybe we can offer a bundle to the attendees at this event.' We're addressing our markets more smartly and it's more efficient for us in terms of marketing expense and marketing effort and time."
The reorganization has included lay-offs, particularly around positions deemed redundant. "We've lost several positions, including 12 edit positions," says Malkin. "We consolidated the breaking news functions pretty quickly. We have two daily newspapers and there were common functions there."
However, Malkin is quick to point out that Source is still hiring as well. "We currently have open editorial spots," he adds. "In these open positions we're looking for people who can bring specialized knowledge to the community."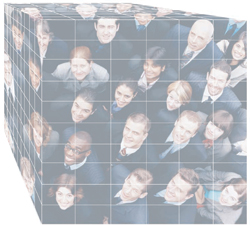 The Banking Cube: How Customers Relate
Source has outlined the way its customers can use its various products in what it calls "The Banking Cube," which demonstrates some of the common interests among different market segments—and common resources for delivering that content. "Whether I'm a money center bank or a commercial bank, I'm very interested in what's going on in the mortgage industry," says Malkin. "I'm probably also interested in compliance and regulatory updates. There are topics of common interest across all these verticals. If you look at the stuff coming out of our information services, there's commonality."
For example, if the Treasury announces a regulatory change, the announcement contains certain facts no matter who writes it. "If you're American Banker or Bank Technology News, it may be 30 percent or 60 percent of the words in that story but you don't need seven good journalists writing the same thing," says Malkin. "This is a little hard for the people who entered Columbia Journalism School 20 or 30 years ago with their finely crafted stories but the way information is consumed today is different. Is there a way to group the editorial talent and use it better, rather than having seven people spending their busy day working the same information, inputting the same information—maybe even the same sentences—into a form and adding some original stuff to make it relevant to their specific audience? Why don't we create that content once?"
Readers Want Information Differently
The Banking Cube concept cuts across media. "You used to read paragraph by paragraph," says Malkin. "Now lots of folks are looking for information on a particular subject or datapoint. It's almost like you're your own personal search engine. What about a community banker interested in Washington regulatory stuff? Where does he or she get that? They can go to the magazine, they can go online, they can go to the Webinar, there might be some custom publishing information that's available, there could be data, there could be training. There are all sorts of channels one could go to within these mini cubes."
Malkin says the cube approach is genuine audience development and engagement. "When people talk about contextual advertising, they talk about putting the advertiser next to that story on a Web page—why aren't we contextually linking the channels around that story as well?" he adds. "If you're reading American Banker and you're interested in regulation and there's an event about it, shouldn't that event be known to you? Here's a research paper, here's data. This is more than just e-media, this is linking e-media to print and events, etc."
The question is how to manage it. "We had many separate groups that as best we could figure were tied to common markets," says Malkin. "Our decision was those groups weren't broad enough to create a big enough audience. If I'm an advertiser, and there's a regulation that will require a particular solution, I would love to own the micro-cube that is the event on regulatory or community bankers. That's exactly my audience and it's more than saying 'I want the qualified audience of American Banker.' An advertiser can take a channel, they can take a title like we've traditionally sold, or they can go online and pick one of these blocks or micro-cubes that bring the audience they want. They have self-qualified to the audience."
"High Value" Versus "Commodity" Activities
One key for the pooled edit approach is to distinguish "high-value activities" from "commodity-style activities" in order to reduce redundancies and focus on producing content, according to Longobardi. "A high value activity is—you're a journalist in the market. You're going out, talking to people, writing great stories, developing great content, maybe even developing data services," he adds. "A commodity activity may include pagination, data gathering, certain types of design. Within that context, these are still mission-critical functions but if you give someone x dollars to spend, you try like hell the get the majority of those dollars spent on the high-value end."
Source needed to reexamine its workflow. "We looked at some of the publishing groups, and a publication would have everything from soup to nuts reporting up to that designated editor and publisher—pagination, copy editing, Web posting," Longobardi says. "Right next door is a brand with the exact same needs. We're not necessarily pooling the same content segment experts, we're pooling people to share best practices. If you have people working together in these areas, now you may have better Web coverage that includes overnight and maybe weekends. The editors back each other up. American Banker and The Bond Buyer were already well down the road on this—they're not siloed anymore, they work together. The other cool thing is that when an editor at The Bond Buyer walks over to talk to someone at American Banker, they might bump into a paginator over there and they can learn more from each other."
Longobardi says pooling editorial also gives the chance for the smaller brands to work right beside the larger brands. "There is much more opportunity for exposing people from smaller units, who maybe weren't ready to lead, to colleagues who can help them stretch a little," he adds. "Right now, there's not just an American Banker news meeting but a weekly meeting between American Banker and the editors of National Mortgage News. There are news meetings between the cards and payments groups. We're seeing The Bond Buyer and American Banker divvy up the territory. American Banker will cover developments with government-sponsored enterprises, which The Bond Buyer readers may care about at a level of four out of 10. Meanwhile, The Bond Buyer will cover auction rate securities, which American Banker readers will care about at a level of four. We can do a better job covering those stories without worrying about filling space on page 10—we can get it right next door. This is valuable content that belongs in each publication, we're just changing how we get it."
Within this new structure, editors have mutual accountability to each other. "Editorial leaders have to look across the table and agree on their goals, not just once but multiple times throughout the week and understand, 'I'm going to do this, you'll do that, and neither of us will drop the ball because we will fail if we do,'" says Longobardi. "It's essential that we not put each business in a silo. This approach raises the level of engagement, because the editors have to be available to each other and they have to consult."
Over time Source plans to develop a shared stylebook for both print and online edit. Pooling editorial also requires common technologies and operating systems—a change for b-to-b publishers used to patchwork systems in which some editors are on Macs while others are on PCs. "If you want a group to work together, it's easier if they don't have to learn three different platforms," says Longobardi. "On the publishing system side, we're looking to build a tagging system that will allow us to sort content. We're trying to devise categories that work for the editorial group rather than thinking about the individual needs of the editor serving the market. When you have 70 titles, it's difficult to go trolling for content that's reusable. It's better to get an RSS feed of a specific category of content that comes right to your desk. We want to push people from commodity tasks like opening and searching to high value tasks where you do one search and spend the rest of the day reporting."
Can Pooled Editorial Work?
Early reaction to the reorganization, particularly the idea of pooled editorial, has been mixed.
"Sales and circulation at the larger publishing firms where I have worked (RBI, Times-Mirror, Scripps) have long benefitted from the collaborative environment fostered by talented managers free to allocate staff and resources to the title best positioned to benefit (or most in need of assistance)," wrote one poster to Foliomag.com. "This is certainly a model for the best Web sites. Editorial teams fluidly organized can generate content useful in many related titles. I believe Source Media will eventually be able to deliver consistent content shared eagerly by editors…but speaking as a long-time editor, it's going to be a lot like herding cats."
Other observers believe removing the identify of a specific brand for an editor eliminates the incentive to be working there in the first place. "Combining editorial teams from various financial titles into one big pool of content providers doesn't make sense," wrote another poster. "That's like saying we're going to pool the editorial teams from Boating Magazine and Surfing Magazine and cherry-pick content. The subject expertise is different, the sources are different, the writing style and story length is different. The only reason companies like Source Media can pay writers so little is the vanity associated with writing for a particular title. E.g., 'I write for American Banker.' Who are writers going to say they write for when their work is put all over the place? For actual journalists, the platform is part of the deal. Kill the platform and you kill the soul of journalism. Pooled editorial is a joke."
Longobardi says most staffers are adapting, and working across multiple outlets gives the individual journalist more opportunity to see their work read by a larger audience. "I'd say 60 percent of people are smiling and happy and look at it like, 'Wow, now I have this whole world of colleagues I can learn from,'" he adds. "Especially for a publication that might by reputation be considered a lesser publication, now they get to sit in the big room with everybody. There are always a few people who will not like change and it's natural for people to be attached to a brand. But when you're a writer and you're used to getting x thousand views for your stories, now you're getting 3x or 4x."
It's not just edit that need to adjust. "It's difficult when you move people sideways and they perceive it as downwards," says Malkin. "It's easy when you're at the top of an organization to underestimate the importance people place on who they report to. Even if they have the same work, they might feel like it's a demotion. You have to be as clear as possible—'this is what we're doing, this is what it means for you.'"
Building New Franchises
New product development, including the development of editorial franchise programs is an important opportunity for Source. "Part of our reorganization is how do we build out like communities under the power of our brands?" Malkin says. "We have something like The Banker of the Year Award—what do we do beyond that?"
Two new positions of vice president of business development were created, with one reporting to the Professional and Technology groups, while the other reports to the Banking and Capital Markets groups.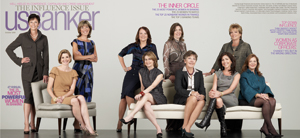 One of the company's biggest successes is its 25 Most Powerful Women in Banking franchise, which recognizes leading women in a largely male-dominated industry. "This started as an addition in print for a community of women in banking not being spoken to," says Malkin. "This went from print to an awards dinner to workshops to seminars to wine tastings to networking. At a recent gala, the question I got asked most was, 'How do I find so-and-so?' It's all about the community, the connectivity. Most of the women go to this not with their male partners but with their daughters or their moms. There's a sense of 'we did this together.' The success of MPWIB should serve as a template for the development of niche communities for each of our brands."
US Banker editor-in-chief Holly Sraeel was named senior vice president of brand management and president of 25 MPWIB, reporting directly to Malkin. Sraeel is responsible for developing additional professional networking communities and franchises.
"These brand extensions do take TLC, they're not something you can mass produce," says Longobardi.
Sales Needs to Take Role of Ad Agency
Source's Banking Cube requires change on the sales side as well as editorial. "On the business side, you need to have one, educated, sophisticated, appropriately aggressive sales group that can sell across all of these channels," says Malkin. "The conversation is, how's it going with your business, how will you make your profits this year? The boards at these institutions are sitting around saying, 'Are we going to acquire or be acquired, how do we rebuild our balance sheets, how do we conserve our cash? We can talk about spending but we also have to talk about doing stuff to help us survive.'"
The publishing sales force needs to take on the role of an advertising agency, according to Malkin. "In this environment, if I'm trying to sell someone a single thing, it doesn't get any attention," he adds. "A financial CEO is looking at things that will turn the business around and it's not going to be a $5,000 ad page. The big ticket items get attention. The CEO needs to be able to go to the board and say, 'This will be transformational.'"
That means funneling the client, as well as the reader, through the different related options. "We can say, 'Here's an event you should sponsor. You should also probably sponsor our channel online. If you look at the edit calendar, there's a couple spaces in print that make sense. Here's a research report that fits," says Malkin.
Source knows that approach isn't a quick fix. "Many clients in the financial services industry are waiting to see where they will be next year," says Malkin. "There are a lot of organizations coming together and there's a question about who will be in charge of the brands. Look at Bank of America, who will be in charge of marketing there? In this quarter, it's very hard to get people's attention. But they're saying sure, show us what you can do. They're not sure where they're going yet so they're not making commitments but they all want something of value to show their boss."
B-to-B Has the Advantage with Communities?
At the group level, communities are coming together. For Mike Dukmejian, head of Source's Professional Services group, b-to-b has an advantage over consumer publishers when it comes to building community. "On the b-to-c side, there's a lot of rhetoric around building community but not a lot of results," he says. "They don't understand their communities the way b-to-b publishers do. When I was on the consumer side, we had a million communities so you could never really understand the car guys or the technology guys. What you sell to those groups is very different. At least here, our very niche approach seems to put us in stronger position than maybe others."
Pooling resources enables the Professional Services group to address some long-standing problems and opportunities, such as the digital space, according to Dukmejian, who was one of the founders of CNNMoney.com. "We have great Web sites but we were not getting cross-pollination—they were managed as silos," he adds. The Professional Services group put together an e-advisory group that meets every two weeks featuring all the major stakeholders such as editorial, sales and e-media. Sometimes the answers are very simple. "We didn't have stock information on our Web sites," says Dukmejian. "Nobody is coming to our space just to get stock information but if they can access that while they're here doing something else, that's a benefit."
"Not Done on Day One"
A reorganization this sweeping doesn't happen overnight and requires day-to-day buy-in from employees. After a while, constant CEO memos and corporate announcements become just so much white noise.
One poster on Foliomag.com who claimed to be a Source employee wrote, "I'm rank and file but we do wonder what is going on. First, when we were bought we were going to buy other media companies, and nothing has happened. Then we were going to launch new Web sites that would change the company. Then we heard about the Cube and no one talks about that anymore. Now we don't have town meetings so nobody really knows what to expect."
Malkin and his team stress that the reorganization isn't something that takes place on Day One. "When you talk about change in a large organization, people look to see if their name is in there and if they don't see it, they think, 'Oh, this doesn't affect me,'" says Malkin. "I've seen some of the follow-up posts, where people say they heard a lot about the Cube but they haven't heard about it since. We haven't gotten to it yet. It's not a tsunami, the tide is rising. With the change in sales, that's been enacted. With the change in editorial, that's getting to them now. How do we watch our Web metrics? How do we tie traffic to revenue? Now you're starting to hit people because we're looking at it differently. If you're a journalist, it gets very quickly back to, 'I write for a weekly, I write for a daily, I write for a monthly.' We need to get beyond that.
In his memo announcing the reorganization, Malkin wrote, "What does this mean to you? It means that the entire enterprise, SM and Acuity, has to be positioned to:
A: Establish a structure that can operate more effectively in terms of content creation, product development and sales/marketing execution.
B: Take advantage of the cycle when it eventually turns upward (and remember that the entire economy relies on the financial-services sector to kick-start the rest of the economy).
C: Generate sufficient cash to cover expenses, which now include the additional $4.3 million in interest and, crucially, to generate the monies needed to provide funding for growth initiatives.
"Some of this is more long-term than others," says Malkin. "There are good people who are no longer with us. In a methodical way, we've had to evaluate people not only by demonstrated talents, field of expertise and aptitude but also by energy level and engagement."