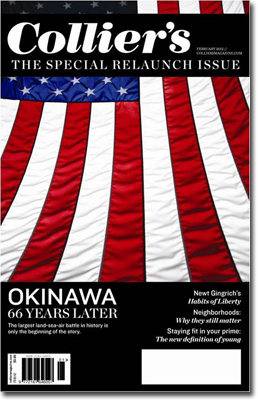 Despite a perilous publishing environment, John Elduff purchased shuttered print property Collier's Magazine at an auction two years ago for a reported $2,000. 55 years after Collier's final issue printed in January 1957, the magazine returned with a February/March 2012 edition. The first issue of the renewed Collier's had a print run of 25,000; Elduff, who acts as publisher and editor, says the magazine has already gained up to 20,000 paying subscribers.
"There isn't a person that's gone through the education system that hasn't heard the name referenced in the classroom," Elduff tells FOLIO:. "The legacy it carries with past authors is significant: Vonnegut, Hemingway."
The revived Collier's targets a wide reader demographic (from 30- to 90-years-old). With a combination of closed and paid circulation, Elduff says physicians' offices are the main hubs for subscription activity so far.
At its peak, Collier's boasted 2.8 million readers. Elduff is aiming for 200,000 with the re-launched bi-monthly.
"Our hope, especially with the health care related articles (which is 35-40 percent of our content) is that the content will be relevant to many readers, but especially those who are entering mid-life," he says. "We're looking for a way to build a bridge between the patient and the physician."
Collier's Web presence has been live for three months. The site includes exclusive content, blogs from Collier's contributors and all print articles, according to assistant editor Tom Conway.
As for keeping Collier's relevant in 2012, Elduff say, "The information is current. We focus on the things I believe are top of mind to Americans today: health, their money and the political climate that surrounds all of the above."