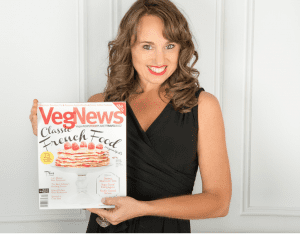 Holland co-founded VegNews in 2000.  With an initial investment of $3,000 and a fierce belief in independent media, the company grossed well over $2 million in revenue for 2010 and sees that number rising for 2011.
VegNews Media finds itself at the center of the growing Vegan movement, and considering that the company started out with a staff of two in a room in her mother's house, Colleen Holland, associate publisher, is pleasantly surprised. But, she knows what it took for her company to achieve what it has so far.
Holland's company moves forward by constantly seeking the next innovation. "We have regular staff meetings on innovation, and how to stay cutting edge," she says. The company's active Facebook page ran several playful April Fool's stories, including one on how the company was acquired by Fox News, and another on how renowned TV Chef Paula Deen was going all-Vegan, that drew hundreds of comments.
"The people we hire need to be well-versed in all platforms, and just as passionate about digital as they are about print," Holland continues. "We were early adopters of Twitter and Facebook and that's paid off, because our readers contact us with breaking stories."
VegNews sees beyond the printed page and the online presence. "We're a whole vegetarian lifestyle brand. Whether it's the international Vegan vacations we run, which sell out in days with wait lists in the hundreds; or the box of Vegan chocolates delivered to your door, the investigative journalism we do in our magazine or a recipe you find our Web site."
The company's plans for growth include expanding the online store, more vacations (such as urban US Vegan tours), more events in partnership with vegetarian companies and acquisitions.
The company acquired the number one vegetarian recipe site last year, VegWeb,com, which features all user-generated content.
"Since we have relationships with all these people, it feels more like a partnership than "Oh my gosh, it's the big guys coming in and taking over" she explains. "We've got several ideas about what would work well with our market, and we're approaching people right and left about acquisitions."
VITAL STATS: Veg News has a thriving online boutique, 210,000 magazine readers and over 1,000,000 unique online visitors to their various Web sites and blogs every month.