Coastal Living Partners with E-Retailer Wayfair

The waterfront living brand hopes to expand reach through e-commerce.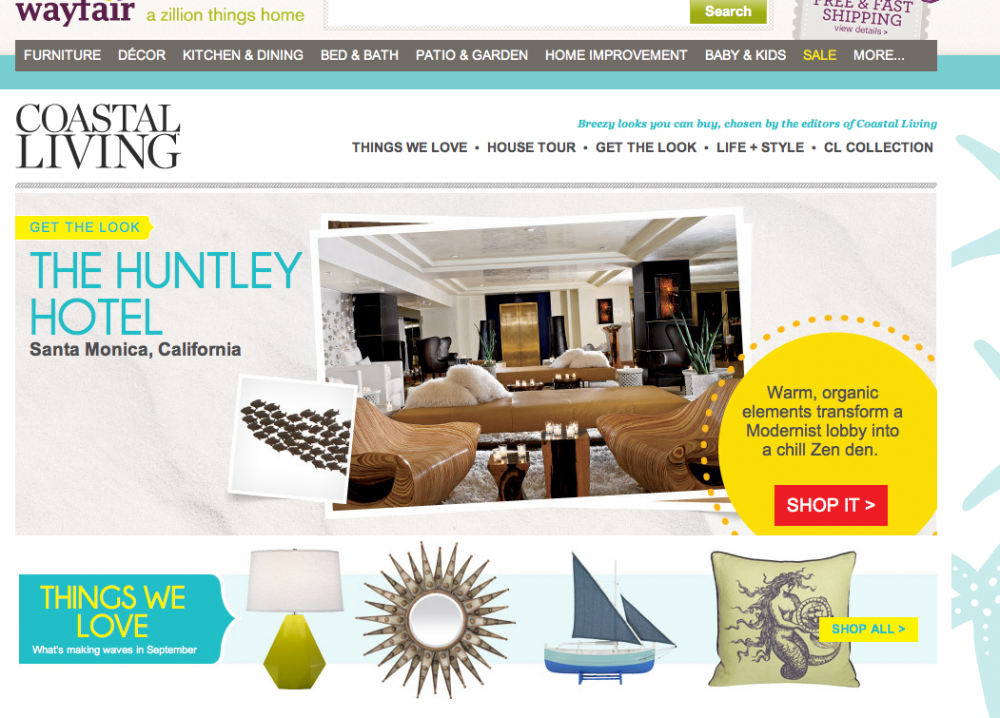 Along with home-furnishing e-retail giant Wayfair, Coastal Living will now offer a number of products to readers through a collaborative e-commerce effort.
The joint site features home décor items that have been curated from both the preexisting Coastal Living Collection and from Wayfair's larger network, while the companies will share revenues generated from the collaboration.
Coastal Living, like several other publications are now doing, is trying to capitalize on an audience that trusts its brand. A less obvious benefit, says Charlie Kammerer, Group Publisher of both Coastal Living and This Old House, is the opportunity to expand that audience.
"We've been thinking about e-commerce for awhile. We've been looking at the marketplace and how other people did it and wanted to do something different," he says. "It's a great opportunity for us to put the brand in front of a lot more people."
Scale, therefore, was an important consideration for Coastal Living in choosing a partner for its e-commerce effort, says Kammerer, whose total audience is approximately 3.9 million. Meanwhile, Wayfair boasts 2.5 million unique weekly visitors, according to its website.
By providing fresh content and links to its own site on the joint Wayfair page, Coastal Living hopes to make part of that audience its own.
"We're using some content from the magazine so people will really get a feeling what the Coastal Living magazine is all about, what the brand is about," says editor-in-chief Antonia van der Meer. "We've really created a boutique. It really is much more like the way you would enter any store."
Editorially, neither content on the joint site, nor the content published solely for Coastal Living, will reflect the partnership with Wayfair.
"We've recognized them as an online retailer that our readers and users have used in the past," Kammerer says, "so that kind of relationship will continue, but we're not changing that behavior at all. We're not making Wayfair a preferred partner in terms of how we send our readers and where we send our readers."
Meet the Author
---