CNNMoney's Broadband Video Project: 13 Million Streams in 10 Weeks

Editor: Visitors spend more than 30 minutes watching video, on average.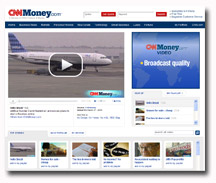 In mid-January CNNMoney.com, the online home to Time Inc.'s Fortune, Money and Fortune Small Business magazines, redesigned its site and launched an online initiative to produce and post 30 original videos every day.
In the 10 weeks since, the site has fallen short of posting that number, but the initiative has established itself as a serious outlet for online business and financial video.
According to data from the February Nielsen VideoCensus, CNNMoney had 13 million domestic video streams, including 530,000 unique visitors who spent an average 32 minutes watching video.
"In the last year and a half at least we've seen our audience's appetite for video grow," CNNMoney executive editor and vice president Chris Peacock tells FOLIO:. "The team has far exceeded my expectations in the short amount of time, in regards to the quality of video that's been produced and the audience's consumption of it."
Instead of 30, Peacock's team so far posts more like 10 to 20 videos per day, says Peacock. Producers are still acquainting themselves with the technology. "We're housed with CNN here so we have access to enormous broadcast facilities," Peacock says. "We're using HD [high definition] handheld cameras and laptops, cutting everything in Final Cut Pro. We're already using the standard HD format of 16 x 9 aspect ratio that hasn't been adopted yet in broadcast. It's a very different animal."
Peacock also has "set up some analytic tools to help us understand not just the volume of video consumption by our audience but how many people start a video actually watch it to the end," he says. While he declined to offer specific figures, Peacock said "the numbers are surprisingly high."
Meet the Author
---