CNET Launches a Web-to-Print Quarterly

Inaugural issue debuts today.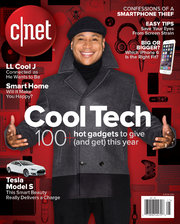 After almost 20 years online, CNET is looking to print to expand its brand. Today the CBS Interactive tech website revealed its new quarterly magazine, which will feature exclusive content separate from the Web.
The first issue rolls out with an introductory $5.99 cover price, which is priced a bit higher than several  newstand issues, but  lower than several quarterly or biannual SIPs. Readers also have the option to pre-order the winter issue, which arrives in March, but no other subscription options are available yet.
The New York Times reports that CNET is guaranteeing advertisers a circulation of 200,000 for the initial release. It also reports that the rate card prices a one-time four-color full-page ad at $40,000.
CNET is looking to capitalize on a Web-to-print trend that is becoming quite common as of late. WebMD, Pitchfork and AllRecipes are just a few brands that are leveraging the analog medium.
Meet the Author
---