The CMS Proof of Concept

Save future headaches by adding this step into your CMS selection process.
Most of us have cycled through our share of Web CMS platforms, usually encountering fatal flaws—scalability or integration issues—much faster than we'd like. Before you make the jump to your next CMS, consider adopting a proof of concept phase before moving to a more involved pilot test phase. This initial discovery stage will give you the opportunity to react to incompatibilities and move on to your next choice without a significant hit to resources.
"One of the pitfalls of going straight to implementation is you don't have an opportunity to react to issues you might encounter," said David Hobbs, a consultant in the CMS market. "I recommend both a proof of concept and a pilot phase before the migration. This way, you can determine whether the tool is suitable and it's your chance to bail out."
The proof of concept (PoC) phase is initiated after you've narrowed your choices down to two or three systems, but doesn't quite warrant a full system test. For example, after a proof of concept, you've still got an opportunity to move on to your second or third vendor choice.
The PoC should be performed quickly, said Hobbs, and focus only on the key functionalities that support the vision of why you're implementing a CMS in the first place. "It's important to have in place the vision of what you're trying to accomplish. That should drive your proof of concept. If part of your vision is the reuse of content, then that should be in there. It's your rallying cry for the whole process."
Other important functionalities might be social media integration, the editors' user interface, related content functions, merging taxonomies, and so on.
A PoC should take about three weeks and occurs before you've signed on with a particular vendor. "It's an entry-level phase and should be considered part of the selection process," said Hobbs.
During the PoC you can also examine how the system will integrate with your existing back-end, but you're focusing on the most critical tools you'll need; examine key use cases; and test areas or functionality that get the heaviest load and could fracture.
Two Common Mistakes to Avoid
It's not just about the content. Publishers often get caught up in the content migration phase, forgetting to also focus on interface functionality and other components. "Instead of thinking about it in one dimension of content, also consider the templates, integration, functionality and all the relationships the content has—the taxonomies—you have to reframe what the scope is," said Hobbs.
When it's time to implement, project manage it. So, you've bought the perfect CMS for your operation, but don't think it's just plug and play. Project manage the implementation process or you might end up with an unusable system. "Look at it as a whole and only put in functionality that's critical to your mission, otherwise it will get too complicated," said Hobbs.
The Three Phases of CMS Implementation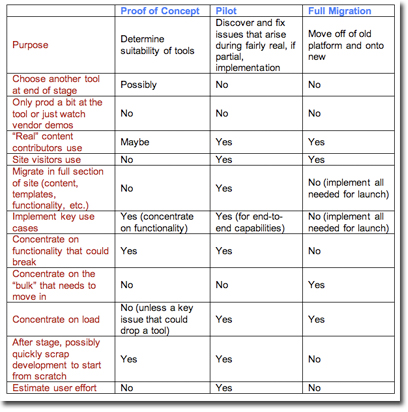 Table courtesy of David Hobbs  
Meet the Author
---