CM Changing to Audience Development

It's not just about magazines anymore. CM updates content, image.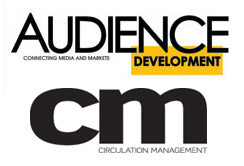 "If they just get the magazine, they're not as useful."
—Kelsey Voss, director, circulation and customer development, Ziff Davis Enterprise
"As we present our audience with a variety of products, the problem that we face is that not all of our customers want to receive every product we offer, and they don't necessarily have to subscribe to our print publication to be a member of our audience."
—Heidi Spangler, director of circulation and audience development, Questex Media
"Circulation-based metrics are irrelevant to proving magazine effectiveness. There is too much focus on ratebase rather than distribution. Every other medium deals with audience, we deal with circulation."
—Jack Kliger, former CEO, Hachette Filipacchi
"Until we can shift the conversation from circulation to audience, we cannot be on the same footing as the other media. Audience will become the common denominator of our media."
—Ed McCarrick, president and worldwide publisher, Time
These are just a few observations from some pretty heavy hitters. And what they're all referring to is audience measurement and development. It's a trend that, frankly, is in our face whether we like it or not, and one that we've written plenty about in the pages of CM—ultimately leading us to the decision to rebrand Circulation Management as Audience Development.
This was a difficult decision to make. CM, after all, is a decades-old brand with a fiercely loyal readership. But after months of careful deliberation, focus groups and research, we decided to pull the trigger.
Starting with the November issue, CM will be Audience Development. The Web site will also undergo its own re-engineering to reflect our new content strategy.
The magazine as you know it is not going away. In fact, you'll immediately recognize much of the same trend coverage. But along with a new redesign and rebranding, we're introducing new departments that will consistently address trends we've covered in the past with periodic, but increasing frequency: Online audience development and the technology that drives it; event audience development; integrated, multiplatform marketing; and database development and marketing, to name several.
In any case, you'll be hearing more about this as we move forward. Here, however, I'd be interested in hearing what you have to say on the matter. What's happening in your organization? How are you measuring, tracking, marketing to your community as a whole? Are we crazy to be changing CM's formula?
Meet the Author
---