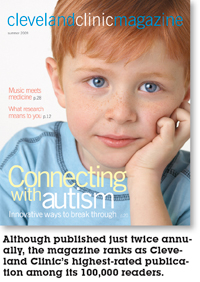 Project: Cleveland Clinic Magazine, ClevelandClinicHealth.com
Client: Cleveland Clinic
Custom Shop: The Magazine Group
While the Cleveland Clinic—one of the top medical institutions in the U.S.—generates several publications internally, including consumer newsletters and physician mailings,  Cleveland Clinic Magazine, done with custom shop The Magazine Group, received the highest rating in a recent survey of its readership.
Designed to reach Cleveland Clinic's extended community—supporters, donors, political leaders—the magazine publishes twice  per year and reaches about 100,000 readers. "People like lifestyle and wellness information," says chief marketing officer Paul Matsen. "The magazine also has features on philanthropy and how it advances the mission of the clinic."
 
Going Online
But as effective as the magazine has been, Cleveland Clinic decided it needed a significant Web presence beyond its main site, ClevelandClinic.org.
"The magazine reaches an attractive but limited audience," says Matsen. "This is content that could be put on multiple platforms. We started with the idea of turning the magazine into a Web site but found that if we married content from the magazine with other publications and tools we had, we could create something richer and more engaging."
In July, Cleveland Clinic and The Magazine Group launched ClevelandClinicHealth.com. The site features content from the magazine and other Cleveland Clinic publications, as well as Web-specific content including a health directory with information on diseases and healthy calculators to help users factor various conditions like their Body Mass Index.
ClevelandClinic.org draws 1.3 million unique visitors monthly and Matsen says traffic to ClevelandClinicHealth.com should be comparable in the near future.
However, the print magazine will still have a vital role for Cleveland Clinic, according to Matsen. "When we look at our total media mix, we've embraced digital and we certainly do broadcast but print is still a vital part of our media mix because it remains the best place to go in-depth and tell the stories people want to read."