Co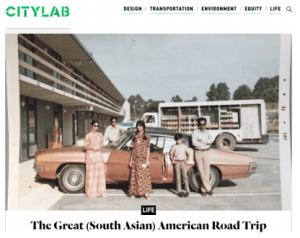 nsolidation has forced major media to jump into the hyper-local fray. While regional news and content has business potential beyond the old model of classified ads, it presents a major challenge for large companies when it comes to connecting with, and understanding local cultures and folkways.
Covering various topics usually isn't the issue. For most brands the difficulty comes when deciding how to brand and distribute the content. Some publishers go with bucketed verticals or independent sites by region. Others go with a locally branded site. The Atlantic's CityLab, which recently underwent a redesign with a more focused editorial mission, has its own approach.
At CityLab, which has carved a niche as a destination for those who live and work in modern cities, editors have to remain cognizant of covering a diverse range of communities across the U.S. (and the world). "But we organize our content by issue, not by geography," says Nicole Flatow, CityLab's new editor. "We tell stories about particular cities when they can provide insight, context, ideas, models and cautionary tales to other people and places."
Flatow also says she's found that people are interested in the universal story of cities, not just that of their own. In addition to a new look with expanded cartography, audio, original artworks, videos and pictures, CityLab has organized its content into five primary buckets that reflect the brand's priorities under its more focused editorial mission: Equity, Transportation, Environment, Design and Life.
Several new features will complement these categories, including a POV section that will engage prominent contributor voices to share their ideas for what makes cities better, an expanded offering of newsletters to notify readers of the most significant news going on in their cities, urban workshops that will bring CityLab journalists into communities, as well as expanded formats for solutions-oriented journalism.
Flatow admits that allocating editorial resources is something the brand is always rethinking. "CityLab staffers and contributors are distributed across the country and world, and our coverage is focused anywhere we discover new trends, ideas, controversies and solutions. In the coming year, we are working towards building out our capacity in select mid-sized and smaller cities," she says.
One of the great benefits of producing region-specific content is it produces far more organic shares. Flatow says that, when appropriate, CityLab does some social targeting, "but much of the geographically specific social buzz for particular stories comes from organic shares." She adds, "Our stories are intended for a national and international audience, and we find that most of our content resonates across geographic areas."
Right now, perhaps unsurprisingly, we are seeing a new wave of interest in city government. For CityLab, this presents an incredible opportunity. "[Local governments] are asserting themselves into the national conversation with amplified vigor," Flatow says. "Some of the most interesting and important issues of our time will be decided in cities, and our vertical subject areas reflect a commitment to those issues."
In a moment of mistrust across our country, brands that produce well-researched content—political or otherwise—and present it coherently are likely to find success covering hyper-local news and issues.