City & Regionals Look for New Life in 2010

Regional titles experienced the most closures—and launches—in 2009.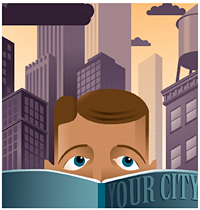 While 275 new magazines debuted and 427 folded in 2009, according to MediaFinder.com, city and regional magazines were the single largest category for launches with 21 new titles including Maine (a relaunch of Port City Life) and B-Metro Birmingham.
However, city and regionals were also the single largest category for shuttered publications, with titles like Atlanta Life and Denver Living folding. Larger city and regional publishers weren't immune, with Greenspun Media reducing its workforce by 10 percent and Emmis Communications cutting more than 40 jobs (about 4.5 percent of its workforce) and slashing salaries 2 percent for remaining staffers.
Shelter titles are the third most common spin-off (luxury titles were first) for city and regional publishers. However, the real estate crash has taken a toll on both consumer and b-to-b local publications. In December, Washington Post Co. subsidiary Greater Washington Publishing folded 80,000-circ. Washington Spaces. Meanwhile, ALM's Real Estate Media Group folded four regional titles: Real Estate Florida, Real Estate New Jersey, Real Estate New York and Real Estate Southern California, laying off one-third of its staff. Elsewhere, Palm Beach Media Group shut Tampa Bay Illustrated, which launched in January 2003.
"It's less that one category has done better or worse than individual markets have done better or worse," says Kim Mac Leod, president of Regional Media Advisors, an M&A company for the regional market. "There are very specific hot spots and cold spots around the U.S."
A Changed Deal Market
Mac Leod says she's seeing more distressed properties on the block. "The market is different not so much in that multiples have declined—which of course they have—but deal structures have changed," she adds. "There is almost a requirement that deals need to be constructed without the aid of financing—it's so tight, deals are getting done in spite of the banks. Buyers and sellers are creating deal structures that are much more creative than they've had to be in the past. There's more willingness to mitigate the risk on both sides."
Still, multiples are down significantly from two years ago. "That's not a blanket statement. We've done a couple deals this year at full value because the property warranted it and the buyer had the cash," says Mac Leod. "But as a general rule, multiples are one to two times reduced. If they were 6x, they are now 4x."
Strategic buyers have replaced private equity. "None of the buyers are private equity—all are strategic," says Mac Leod. "It's about bank avoidance—avoiding any situation where you have to go to a bank and borrow money. That means less cash at closing and more protracted or deferred payment structures."
Zivyak Media Group, publisher of Berkshire Living, purchased the assets of San Jose from Renaissance Publications. San Jose folded in December 2008 and Zivyak plans to relaunch the magazine in 2010 with distribution of 30,000. Regional Media Advisors represented Zivyak in the deal.
Some publishers are selling properties to employees. In July, The Providence Journal Co. sold 42,000-circ. Rhode Island Monthly to the magazine's longtime president and publisher, John J. Palumbo.
"While initially we were a standalone to ensure consistency for internal auditors, controls and expense allocations continued to grow," says Palumbo. "These were smothering the business by being more than 10 percent of gross revenue budget." Under independent ownership, the magazine will save more than $500,000, according to Palumbo.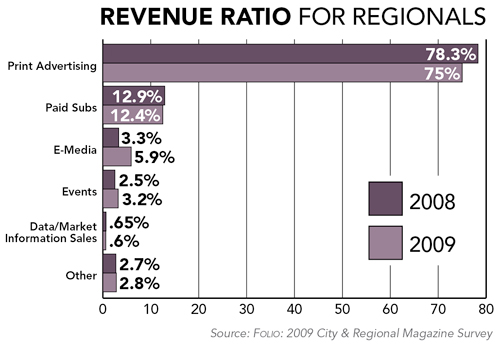 2010 Initiatives: Themed Issues, New Launches, Digital Packages
Even the traditional stars of the city and regional market endured a tough year. Oklahoma Today finished 2009 down 9 percent in ad revenue. However, that's partly because 2008 was so good, according to publisher Joan Henderson. "We had a phenomenal 2008, due largely to the production of our special Oklahoma City issue  which was our best ad sales issue in the history of the magazine," she adds. "We knew we wouldn't be able to duplicate that success, so our 2009 numbers came in just about where we thought they would."
Oklahoma Today had difficulty selling ads for its September/October 2009 issue, which was a regular issue with no particular focus (the magazine closed with 84 pages, compared to 204 in 2008). In response, Oklahoma Today will run themed issues throughout 2010. "Colleges and Main Street have already been published and Travel, Sustainability, and the American Indian are on tap," says Henderson. "This seems to be an effective way to maintain our ad sales."
Missouri's Inside Columbia saw ad revenue drop 20 percent in 2009. "Based on the war stories I've heard from CRMA meetings, I'm okay with those results," says publisher Fred Parry. "Our biggest hit came from residential developers and builders, which has been a very big category for us. Our October 2009 issue was 72 pages smaller than our October 2008 issue."
Inside Columbia has tightened up operations without laying off any employees. The publisher also launched two titles (Prime, a monthly targeting high net worth baby boomers, and quarterly CEO Magazine, as well as an e-newsletter for wine and food enthusiasts).
The magazine also generates more than $400,000 from special events (or about 30 percent of the brand's overall revenue). Events include a Wine and Food Festival, a National Speakers series and a Culinary Adventures trip, with sponsorships ranging between $1,500 and $15,000. "In a year like 2009, we had a mediocre June and July in the magazine but the Wine and Food Festival made up for a couple months of revenue," says Parry.
Maryland Life sold integrated packages with "Eat, Drink, Buy Art," which highlights local food and cultural attractions in nine communities on the state's eastern shore and generated revenue in the mid-five figures. The program included a brochure in the magazine, a dedicated Web site and a contest in which readers should get a passport stamped at local galleries and restaurants.
Meanwhile, one publisher is expecting growth: Sactown, which covers Sacramento, California, has relocated offices, upgrading from a 2,000 square foot facility to another that's 4,100 square feet and plans to  hire more staffers. While ad dollars are flat, Sactown had its best year on the newsstand in 2009, with sales up 33 percent. "I'm very optimistic about city magazines," says co-owner Rob Turner. "We're different than national titles. I can't imagine city and regionals going away."
SIDEBAR
Cracking the Code of Hyperlocal
By May 2009, seven major newspaper companies were in bankruptcy or had papers that closed. But San Diego News Network, which launched in March to compete with the San Diego Union-Tribune, has an online model that may have figured out the economics of local news, according to founder Neil Senturia.
SDNN has seven journalists, with 600,000 page views and CPMs greater than $11. "This is real money, not 30 cent Google ads," says Senturia.
The early days weren't without challenges. SDNN blew a few hundred thousand dollars setting up the network and making mistakes. "By May 2009 two things occurred—we fixed the bus and we got the right people in the right seats," says Senturia. "There's a certain cost to doing this. You need people and technology. You need to isolate fixed costs, such as journalists, salespeople, freelancers, etc. But if you can do it once, you can do it 100 times. Our goal is to build  a national network of local online news sites. I think we've cracked the code for the economics."
While SDNN isn't profitable yet, it's pulling in $30,000 in revenue each month, according to Senturia, who says local online news must have scale. "If you only open one little site, you have a reasonable chance of going broke," he adds. "If you open 100, you have a decent chance of becoming a large, successful company."
Since launching SDNN, Senturia has also debuted a network for Southwest Riverside and partnered with the Los Angeles Times to launch an online network for Orange County in January. Senturia hopes to have four or five additional strategic partners around the country by spring. n
Meet the Author
---