A City and Regional Perspective on Ad Sales

The ad-for-edit struggle plays out locally, too.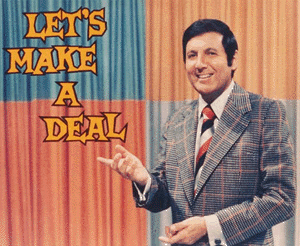 For those growing up in the 60s and early 70s (all others, see: YouTube), the iconic Monty Hall was the ringmaster presiding over the original game show franchise, "Let's Make A Deal." Contestants could wheel and deal and end up with everything from a new car to a cute bovine. The fact that fantastic prizes were lost and won on a split second decision by folks we could identify with (as well as their anxiety in the decision making process) was mesmerizing, even for us adolescents.
This show was the precursor, if not the source, of product placement and promotional consideration, which has persuasively encroached on all media.
Thanks to the economic tsunami of 2008 and 2009, that concept became even more prevalent, especially as regional and national buyers negotiated with us in the city and regional magazine business. "Well, we'll look at you with a 30-percent decrease in rate card, value added to include another one-third vertical more digital placements, editorial mention—yeah, I have heard that church-and-state myth before," they said. "And oh, by the way, that is all non-negotiable."
Yes, many of us were subjected to some pretty aggressive (or ridiculous) demands, but, unfortunately, the honeymoon lingers as the requests we receive to this day, although not as incredible as a few years back, are equally as emboldened. While we are all fortunate to have the inventory in digital, events and social media to offer the least painful cost to the publisher, this trend is not ending anytime soon.
The bane of any local publisher is the growing plethora of glossy unaudited (at all times) and unethical (more often) publications that include editorial consideration. It is infuriating for many of my colleagues and I as we battle for our share of local advertising dollars with the editorial integrity we have ingrained in our more (economically) vulnerable organizations, which are inspired purveyors of local long-form journalism. Yet those of the "buy-an-ad-get-a-story" world flourish and create an aura of intrigue for uninformed local advertisers.
For city and regional magazines, we would be selling our soul.
Meet the Author
---