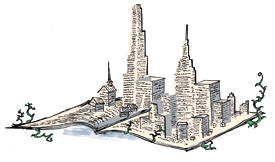 The city and regional magazine market has experienced a flurry of ownership changes in recent months: CurtCo Publishing divested its regional magazine stable by selling San Diego to Desert Publications as well as Sarasota and Gulfshore Life back to former owner Dan Denton. Zivyak Media Group, which until now has focused on three titles (Berkshire Living, Home & Garden and BBQ: Berkshire Business Quarterly) dedicated to an area of western Massachusetts, expanded cross-country with the acquisition of the assets of defunct San Jose Magazine, which it plans to re-launch in 2010.  
Even the biggest players are affected, with Emmis Communications Corp. CEO Jeff Smulyan acquiring the regional magazine publisher and broadcaster with plans to take it private. Shortly before Smulyan's announcement, there were a series of changes including the departure of Texas Monthly publisher April Hinkle, as well as former Los Angeles publisher Amy Saralegui relocating to Texas and taking on the dual role of vice president and group publisher of national sales for Emmis Publishing as well as publisher of Texas Monthly.   
The New Economics of City and Regionals
In recent years, city and regionals were an oasis in the waste land of magazine advertising. Since 2008, however, city and regionals were no longer immune, and that's resulting in a changing landscape and valuation.
"The ideal target margin for a city and regional magazine had been around 20 percent," says Chris Schulz, who has served as president and publisher of Gulfshore Media as well as COO and group publisher of OCR Magazines and managing director Europe for Reed Elsevier. "That has changed. When I was chair of the publisher's meeting for the CRMA, I did an informal poll and found that across the board, margins were shrinking."
Magazines are smaller and while M&A in the city and regional market stalled over the last year, companies that are buying are getting good deals. "The pricing of city and regionals is very favorable right now," says Desert Publications president Milt Jones.

Gulfshore Life and Sarasota are "half what they used to be," according to Denton. However, Denton says that both magazines will be profitable and should generate combined revenue of about $7 million in 2010.
"There is some emotional attachment—one magazine I started, the other I built up," he says. "I had done quite a lot of looking around to buy, and this is the best opportunity that I was able to come across in a couple years. These are long established brands and nothing that a recovering economy can't fix."
For Zivyak Media Group, the opportunity is about entering a large market without a major magazine—a rarity for the city and regional category, where markets like Atlanta see upwards of 15 different local publications. "With the previous owner moving out of print and into television production, the 10th largest city in the United States would now be without a paid-circulation city magazine serving its diverse and upscale residents," says CEO Michael Zivyak. "That market includes Silicon Valley. The city alone is over 1 million people and the entire market (south of San Francisco and North of Monterey) consists of approximately 2.5 million residents. It was too big an opportunity to leave to someone else."
So far, Zivyak has brought in award-winning art director Pete Ivey (formerly of Portland Monthly) for a wholesale redesign. "Our first step was to look at the brand and determine how well it was serving the market," Zivyak says. "We analyzed the circulation model, the market demographics, the advertising CPM, the logo, the physical size (it was oversized) of the book, the editorial product and the overall look and feel. We also retained Alan Centofonte to help us with our newsstand distribution to make sure we were available at all the key retail outlets with premium positioning. I am confident that the market will embrace this type of paid-circulation, ASME-Guideline following magazine, just as it has in cities around the country like CRMA titles St. Louis, D, 5280, Chicago, Atlanta, Seattle, Boston, etc."
The Great Circ Debate: Paid Versus "Qualified Controlled"
The City & Regional Magazine Association has long touted the benefits of paid circulation over controlled circulation in the regional market (it's also a condition of joining the association).
"In this kind of an economy, a paid circulation model is more of an asset than ever—for a couple of reasons," says Dan Brogan, current president of CRMA and publisher of 5280 (which is up 7 percent in ad sales for the first half of 2010). "First, now more than ever, advertisers want to know that they're going with a publication that readers actually want to read. They're demanding more than just a pretty face.  Second, a paid circulation model forces you, as an organization, to have a relationship with your readers in a way that just doesn't happen when you're dumping bundles of magazines in restaurant lobbies or mailing them out to bulk lists. When you study renewal reports and newsstand sales results every single month, you get in touch with your market in ways that make your magazine better. You learn what readers want and what they don't."
Zivyak has approached the paid and controlled models from a media planner perspective as well as a publisher's.  "I spent several years in the beginning of my career in Media Planning at FCB in New York, and I rarely placed my advertisers in publications that were not paid (either on the newsstands or subscribers or both)," he says. "Magazines that are paid and audited simply have a better audience of readers because they are 'wanted.' Think about how you value something you get for free vs. the value you place on something you pay for. There's no comparison."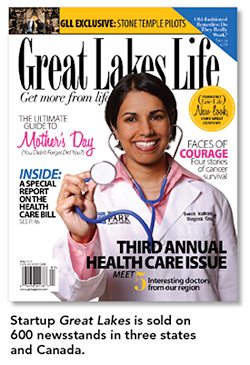 When Erie Life (now called Great Lakes Life) debuted in 2008, founder Rena Tren and vice president and partner Paul Loncharic worked with a consultant who advised them to take a strict controlled circulation model. However, Great Lakes Life insisted on a paid model as well, according to Loncharic. "People demanded ownership of the product," he says. "We both knew we wouldn't have been as effective if we only provided a free-be. This method was effective because it gave us the opportunity to discuss our targeted controlled circulation and its benefit to the advertisers but also discuss our reader loyalty and dedication to the product."
Today, Great Lakes Life is sold on more than 600 newsstands in three states (Ohio, New York and Pennsylvania) and Canada. Revenue has grown 20 percent every year and today is between $500,000 and $1 million, according to Loncharic.
Making the Case for "Qualified Controlled"
However, others fully support a qualified, controlled circ approach for city and regionals—provided the magazine sets strict editorial standards and doesn't fall into the "pay-for-play" trap.
Terry Carroll has run paid circ magazines, but now is publisher and CEO of Style Media Group,  which serves the Folsom, California area with three magazines—Style-Folsom El Dorado Hills, Style Roseville Granite Bay Rocklin and Style El Dorado County Foothills—that  are freely distributed to select households to the tune of 2 million copies per year.  Currently, Style Media offers free subscriptions to its digital editions but is considering a paid model for the future.
"When we came in, much of CRMA poo-pooed us," says Carroll. "However, circulation has dropped dramatically for almost everyone and the cost of acquisition has become way too high—the cost of acquiring a new subscriber is upwards of $60 or $80 per, and there's no money to be made on that except on the back-end when you sell the publication. With qualified controlled circulation, the startup costs are relatively low."
Free Subscriptions But No Advertiser "Pay for Play"
Today, Style Media generates between $2 million and $5 million in total annual revenue but Carroll says advertisers don't get a pass. "Just because you're running an ad, you're not getting a story," he says. "Advertisers may not get it—especially in  local markets where they're primarily small businesses and they don't really understand how it affects readers—but readers understand when they're reading pay-and-play edit and real edit."