Circulation Manager

The challenges of competing company goals aren't getting managers increased salaries, but regardless, they remain more optimistic than directors.
After watching compensation spike across the board from 2006 to 2007, circulation managers reported salary levels dropping again in 2008. The greatest impact affecting them comes from declining ad revenue and digital editions gaining popularity, which in turn leaves less magazines for mailing. While  salaries have decreased across the board from last year in all three areas, both consumer and association managers' salaries have taken a notable tumble. Association managers have seen a $15,400 decrease from 2007, and consumer managers, who reported a $10,000 increase from 2006 to 2007, have seen salaries plummet $13,000 from 2007 to 2008. Those who worked on only one publication saw a slight  increase from $45,200 to $51,800.
Managers cited taking on more responsibility across the board, with marketing tasks leading the pack in their verbatims. One manager pointed out competing company goals as the greatest challenge. "We often have one department with cost savings and another with revenue and subscription production. These don't always align. We waste time internally." Managers also cite "covering for people," being "shorthanded" and an overwhelming workload as challenges.
However, these challenges aren't always a negative. One verbatim cites change as "The biggest challenge and the biggest thrill" of the job.
While managers expecting a salary increase dropped 13 percent from last year, they are still more optimistic than production director counterparts, whose hopes of receiving an increase dropped 18 percent.
AVERAGE SALARY BY:
Gender
Male: $59,800
Female: $47,300
Age
Younger than 40: $43,900
40 or Older: $53,900
Education
Graduated College: $54,100
Postgrad Degree: $64,800
In New York City Area
Yes: $66,300
No: $44,900
Geographic Distribution
Northeast: $62,200
Midwest: $47,400
West: $44,800
South: $45,100
Years in Publishing Industry
10 years or less: $46,600
10-19 years: $56,200
20 years or more: $54,900
Years in Present Company
5 years or less: $49,600
5-9 years: $54,300
10 years or more: $51,100
Years in Current Position
3 years or less: $49,800
3-9 years: $51,900
10 years or more: $52,700
Number of Publications Worked on
1 magazine: $51,800
2 or more magazines: $51,600
Number of Employees Supervised
None: $50,700
1-4 employees: $53,200
5 employees or more: $42,300
Company Revenue
Less than $10 million: $43,100
$10 million or more: $67,900
Revenue of Respondents' Publications
Less than $3 million: $40,100
$3 million or more: $63,100
Paid/Controlled Pubs
Paid only: $52,200
Controlled only: $49,200
Mix of both: $49,900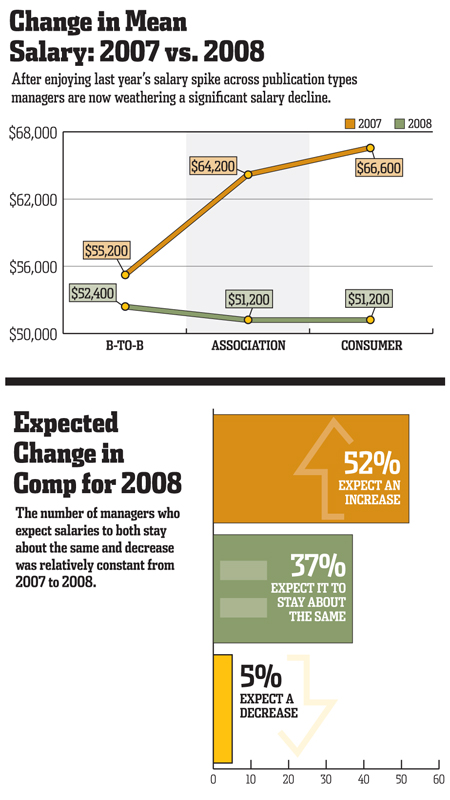 SEE ALSO:
SALARY BY CATEGORY: Circulation Director or Top Circulation Executive
SALARY BY CATEGORY: Circulation Associate/Assistant
Meet the Author
---