Directors are increasingly pessimistic about salaries in 2008, despite a slight rise in compensation, with overall company revenue playing an increasingly important role.
Circ directors, for the most part, saw their mean salaries rise slightly over last year with the one exception being consumer circ directors. Their salaries fell by about $2,200. Unfortunately, this continues what's become a two-year trend. After a sizeable spike between 2005 and 2006, consumer director salaries have been on the decline. And yet the trend of increasing responsibilities has not abated, and this year top circ executives don't seem to have much to show for their extra efforts. Association and b-to-b circ directors, however, have been enjoying rising salaries over the last three to four years.
When asked about additional responsibilities outside of their formal job descriptions, respondents noted everything from advertising marketing and database management, to business intelligence, Internet and e-mail marketing. One person said, "More time testing and quality control is required due to printer/fulfillment/newsstand consolidations, as well as testing and quality control of new media Web and digital." And this year, as it seems every year, we received this reply: "Too many to list."
The gender gap actually increased by another $4,400 in 2008 to nearly $20,000—with male circ executives reporting $92,100 and females reporting $73,300.
Working for a company with more than $10 million in revenue seems to be the place to be, with respondents indicating that salaries are about $46,000 higher than those at companies making less than $10 million. Likewise, directors who work at titles that make more than $3 million in revenues earn $50,000 more than their counterparts at titles that make less than $3 million.
AVERAGE SALARY BY:
Gender
Male: $92,100
Female: $73,300
Age
Younger than 40: $66,100
40 or Older: $88,900
Education
Graduated College: $79,800
Postgrad Degree: $100,800
In New York City Area
Yes: $108,300
No: $74,800
Geographic Distribution
Northeast: $95,600
Midwest: $73,500
West: $80,500
South: $76,800
Years in Publishing Industry
10 years or less: $51,100
10-19 years: $83,400
20 years or more: $99,000
Years in Present Company
5 years or less: $78,200
5-9 years: $85,100
10 years or more: $89,600
Years in Current Position
3 years or less: $81,700
3-9 years: $86,900
10 years or more: $79,400
Number of Publications Worked on
1 magazine: $70,400
2 or more magazines: $85,700
Number of Employees Supervised
None: $57,500
1-4 employees: $78,800
5 employees or more: $96,000
Company Revenue
Less than $10 million: $60,200
$10 million or more: $106,000
Revenue of Respondents' Publications
Less than $3 million: $52,200
$3 million or more: $102,200
Paid/Controlled Pubs
Paid only: $85,700
Controlled only: $69,400
Mix of both: $85,300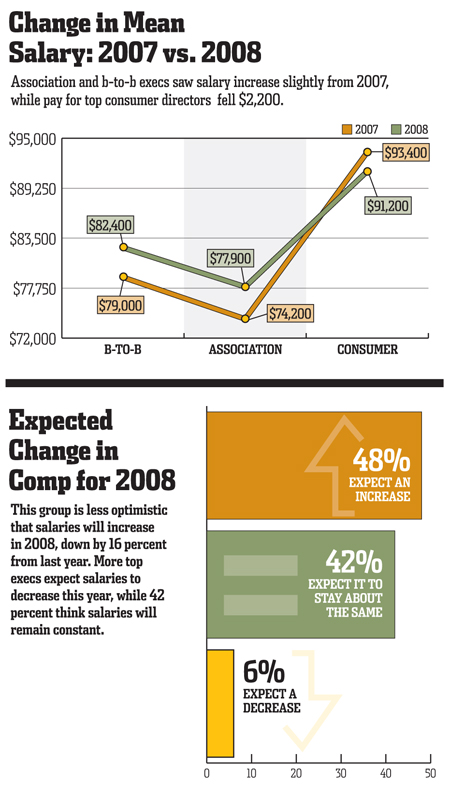 SEE ALSO:
SALARY BY CATEGORY: Circulation Manager
SALARY BY CATEGORY: Circulation Associate/Assistant