Circulation Declines at AMI Titles

Star, Shape and National Enquirer see circ fall over fiscal year.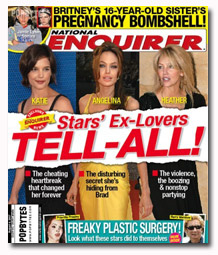 One week after announcing
its fiscal 2008 revenues, AMI today released monthly circulation information for Star, Shape and National Enquirer—showing declines at each.
According to AMI, circulation for the National Enquirer in June was 957,000, down about 11 percent over 1.07 million in July 2007. Circulation at Star in June was nearly 1.3 million, down about 10 percent from about 1.4 million last July, and Shape had 1.65 million circ., down about 8 percent from nearly 1.8 million last July.
AMI also reported today that it has $18.8 million in liquid cash assets and $26 million in a revolving credit facilities balance.
Last week, AMI reported its fiscal
2008 revenues
were $491 million, up about 4 percent over 2007. Operating income was $67 million, as compared to a $254 million loss over 2007.
AMI attributed its year-end revenue increase to ad revenue spikes at Shape, Star and Men's Fitness magazines.
Meet the Author
---