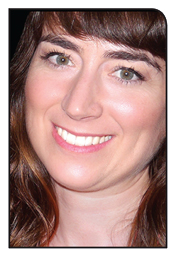 In our recent filing, it was our biggest year of growth. Year-over-year, we've seen a 125 percent increase in direct ad revenue. Looking ahead to 2014, we're pushing forward in our biggest areas of growth: mobile, social and community.
We launched a new commenting platform, invested in a moderation team and we're really focusing on elevating the conversations and bringing in a bigger and more diverse group of commenters. We're concentrating on the conversations built on social and community.
Forty percent of our traffic is from mobile, so that's also a big focus for us. Social referral traffic is up 88 percent in our fiscal second quarter over the same period last year. The growth trajectory for those two numbers has been consistently similar since I've been on board and we think they're closely linked. So, we're continuing to focus on our mobile products and moving our existing ad products to mobile as well as creating new experiences for advertisers.
On the revenue side, we're focusing on new ways to work with advertisers with custom, innovative solutions that pair the objectives of our user with the advertisers. We're definitely doing more sponsored content, but we're also doing more custom integrations that our technology team will build—video modules, for example. We've changed our ad revenue model to focus on working more directly with advertisers on custom ad development. There's so much more value that's brought to the users with these techniques than just boxes on a page. If we can give users a content series that we'd be producing anyway, it adds a lot more value.
We've spent the last year broadening our editorial coverage with high-quality, longer-form content and complimenting it with breaking news. Three new site sections have also been a key part of our traffic growth. We also simplified our capital structure. In March, we completed a restructuring that eliminated $15 million in debt and converted it to common stock.