Christopher Ruddy

founder and CEO, Newsmax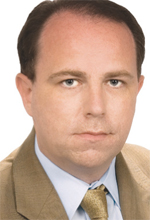 Newsmax, a conservative political news brand, has managed to grow both its digital and print brands.
Sure, Newsmax, the conservative-leaning media company, has been around for 12 years, but in the last two, where success is really measured these days, the brand has continued its ascendancy. And while other news-oriented sites could point to more explosive traffic growth, Newsmax has also won on another front—print.
Christopher Ruddy founded the West Palm Beach, Florida-based Newsmax in 1998 with a $25,000 investment along with Richard Mellon Scaife, who owned the Pittsburgh Tribune-Review, where Ruddy worked as a national correspondent. According to a report in Forbes, the duo quickly raised $15 million from 200 private investors and then bought them out in 2000. Ruddy now owns a 60 percent stake with the rest owned by Scaife.
The site now averages between 3.5 million and 4 million monthly uniques, which is double what it was just two years ago. The monthly magazine, which launched in 2001 and doesn't report a rate base, broke through the 100,000 circ. barrier in 2006 at 104,000, dipped back into the nineties and then shot back up to 108,000 by its December 2009 ABC publisher's statement. Virtually all of the circ. is paid subscription, at an average net subscription price of about $26—more than double what it was in 2008.
Going forward, the circ. story looks even brighter, with paid distribution expected to top 220,000 by the May 2010 issue, according to company figures. 
The company, which is profitable, did about $36 million in revenues in 2009, says Ruddy, which is up from $24 million in 2008 and $19 million in 2007. "We've had, since we started in 1999, 40 percent growth rates every year," says Ruddy.
While Ruddy is reluctant to say if the company will hit $50 million in 2010, but he did say it will finish the year "very strong."
The revenue breakdown, he says, is  about 50 percent subscription revenue and 50 percent advertising, with most of the ad revenue coming from the online properties. "I think that the power of the Internet as a marketing tool is really one of the keys to our success," says Ruddy. "We are a magazine that grew out of the Web."
VITAL STATS: Flagship site Newsmax.com doubled its monthly uniques over the last two years to 3.5 million. The company, which is profitable, made $36 million last year, up $12 million from 2008.
BACK TO THE 2010 FOLIO: 40 MAIN PAGE 
Meet the Author
---